18 Oct

Easy, vegan baked beans – are baked beans good for you?

Is there anything more comforting on a cold morning than vegan baked beans on toast? You might enjoy them with a layer of pesto, and that really would be delicious. But this recipe is flexible enough to produce baked beans that are delicious with your favourite grain and toppings for a delicious lunch bowl or dinner plate. We will also answer the question of whether baked beans are good for you. The joy of this recipe is in its simplicity. So, let's dig in!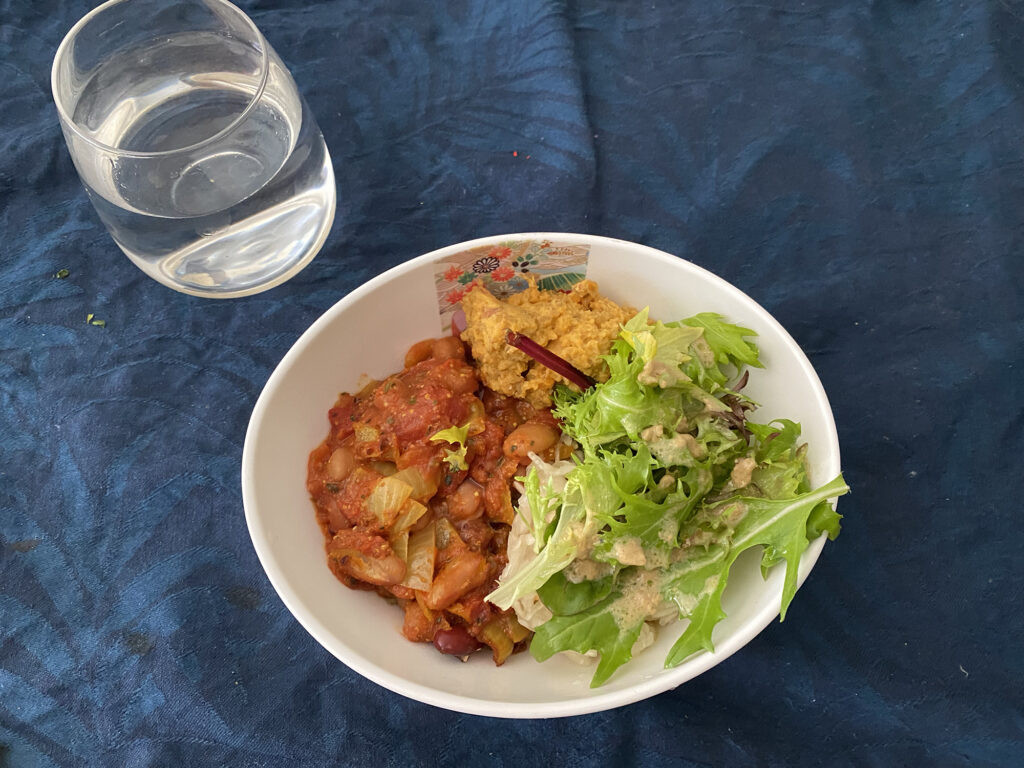 When I said this recipe was easy to prepare, I meant it! All you need to do is to toss the ingredients into a baking dish, progressively over time and let them bake, while you do other things. You could use dried beans from your local bulk coop food store, or you could do what I do and just used canned beans. The scent of the deliciously saucy vegan baked beans cooking will tantalise your taste buds.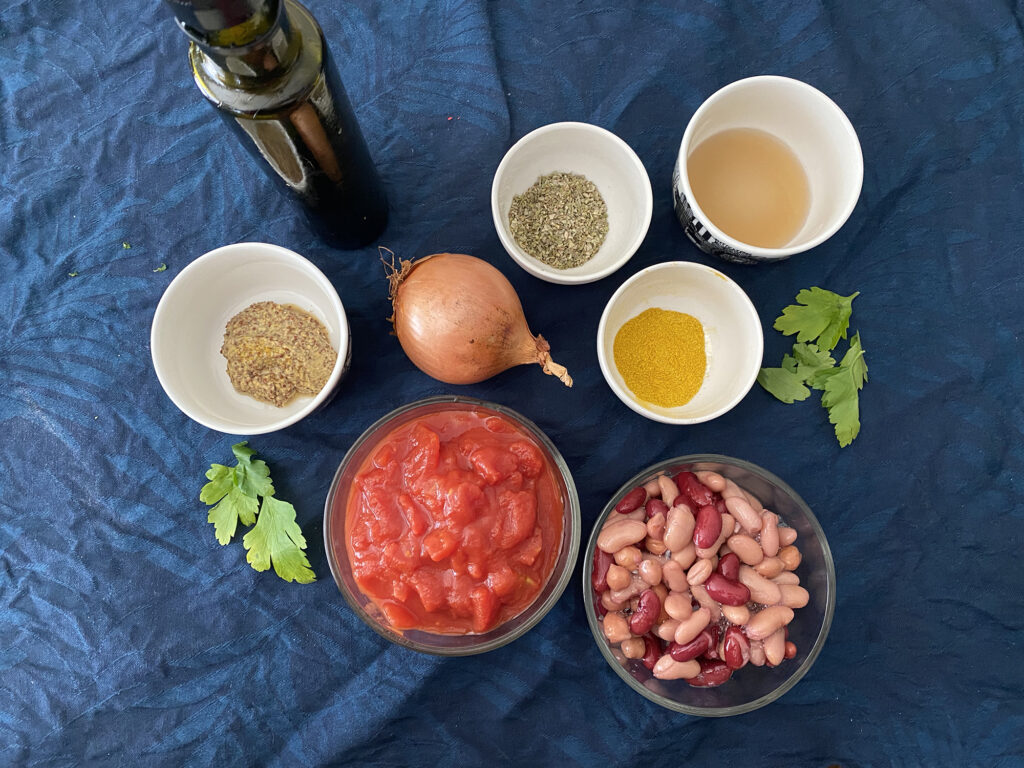 Ingredients in the vegan baked beans
beans – can use dried cannellini or navy beans or canned beans – a mix, or kidney beans, or cannellini beans
onions
olive oil
curry powder
oregano – dried or fresh
mustard – wholegrain or dijon will be fine
balsamic vinegar
maple syrup – or honey
diced tomatoes – canned tomatoes work well for this recipe, but you could also use tomato passata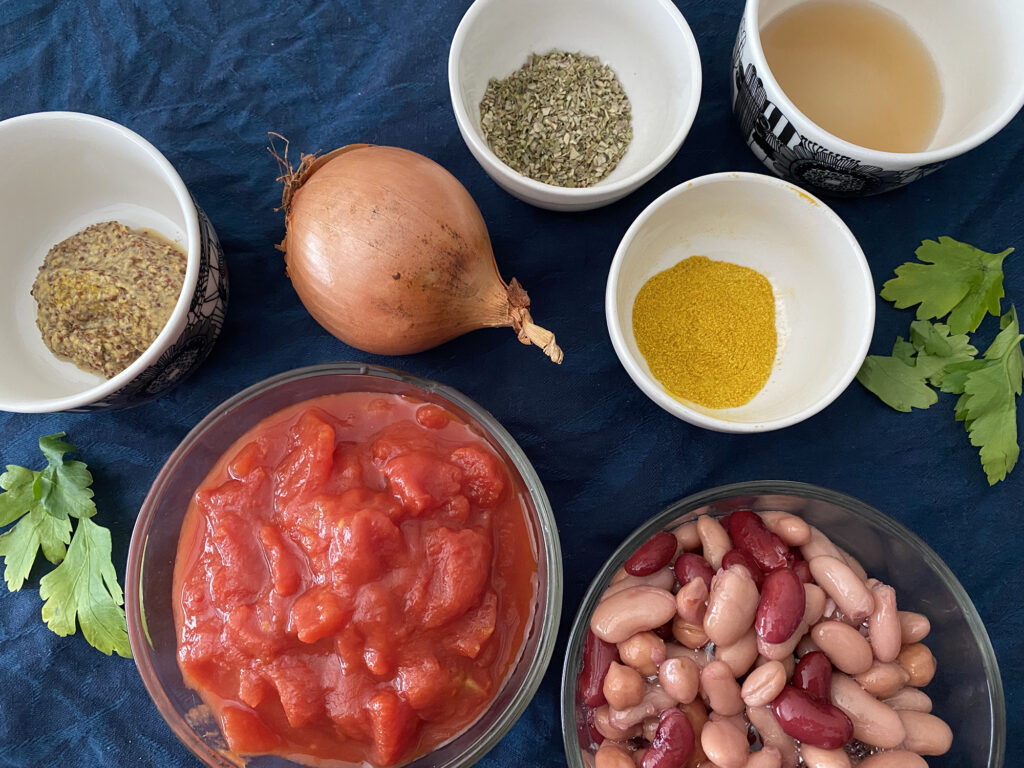 Vegan baked beans ingredient substitutions
This recipe is really flexible.
Prefer dried beans? You can use dried cannellini or navy beans instead of tinned beans if you prefer. Simply soak them overnight and then cook them in plenty of water for 2 hours or until simmer.
No balsamic vinegar? I used red wine vinegar instead of balsamic vinegar, and it was still very tasty, but balsamic vinegar would be best.
No diced tomatoes? The original recipe used a 700 ml jar of tomato passata instead of diced tomatoes. Feel free to substitute this based on what you have on hand.
Serving options, leftovers and serving sizes
This dish is perfect as a base for so many tasty dishes! You can use it for vegan baked beans on toast, as we already described, but it would also be delicious as part of a buddha bowl, with sweet potato hummus, and/or accoutrements on your favourite grain. I would also recommend picking up some tortilla strips or corn chips. It can be served with corn chips as a delicious snack, or dinner (with guacamole and sides).
For this reason, I would recommend cooking the dish as written (for four to six serves), as it will be so easy to gobble this all up during various meals during your week. You could cut the servings down to two by only using one can of beans, and tomatoes, but I feel like your work will be wasted, and you will be craving these delicious vegan baked beans for days to come.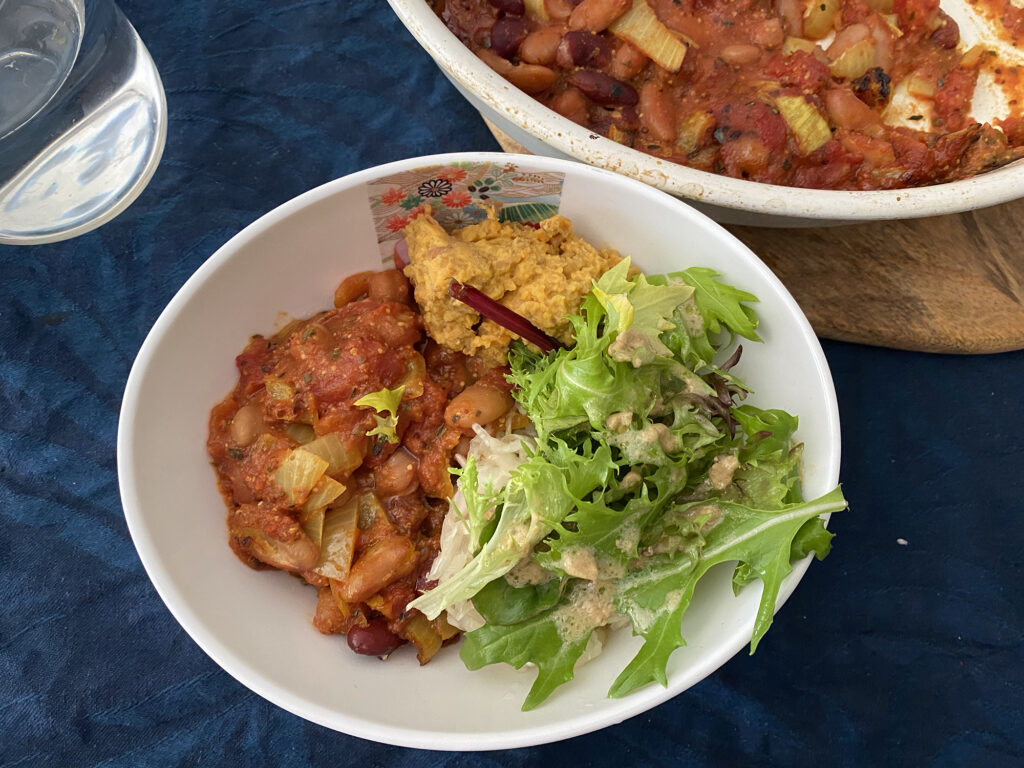 Make a full meal with vegan baked beans
Construct easy vegan nachos, by serving with corn chips and guacamole
Make a delicious veggie bowl by serving with rice, sauerkraut, hummus, tortilla strips and salad
Serve with pesto on wholegrain toast for a delicious vegan breakfast
Serve with rice and hummus for a simple, yet tasty dinner
Leftovers
The cooked vegan baked beans will last in an airtight container for four to five days. To reheat, place your desired serving into a baking dish, cover with foil and bake at 180 degrees celsius for 20 – 30 minutes until cooked through.

Easy, tasty, vegan baked beans
Recipe type:
Breakfast, lunch, dinner
Prep time:
Cook time:
Total time:
Ingredients
2 x 400 g tins of kidney, cannellini or mixed beans (preferably organic)
2 large onions finely chopped
2 tbsp olive oil
2 tbsp curry powder
2 tbsp dried oregano
2 tbsp mustard (wholegrain or dijon is fine, depending on what you have on hand)
1 tbsp maple syrup
2 x 400g tins of organic diced tomatoes
Instructions
Heat oven to 180 degrees and mix onions, olive oil, curry powder and oregano in a large baking dish. Roast for 20 minutes.
Add the diced tomatoes (or passata), mustard, vinegar and maple syrup. Put back in the oven and cook for a further 20 minutes.
Add the beans, stir to mix through and cook for another 20 minutes.
Serve
Nutrition information
Are baked beans good for you?
As you can see from the nutrition information, these vegan baked beans contain a lot of fibre, vitamin C, iron and vitamin K, while only containing very low amounts of saturated fat (0.8 g), and cholesterol (0 mg). It is also low in calories. What's more, because the protein and fibre in the beans fill you up, it will stop you from snacking between meals. It is clear that baked beans if made at home with wholesome ingredients, are very good for you!
Did you make this recipe?