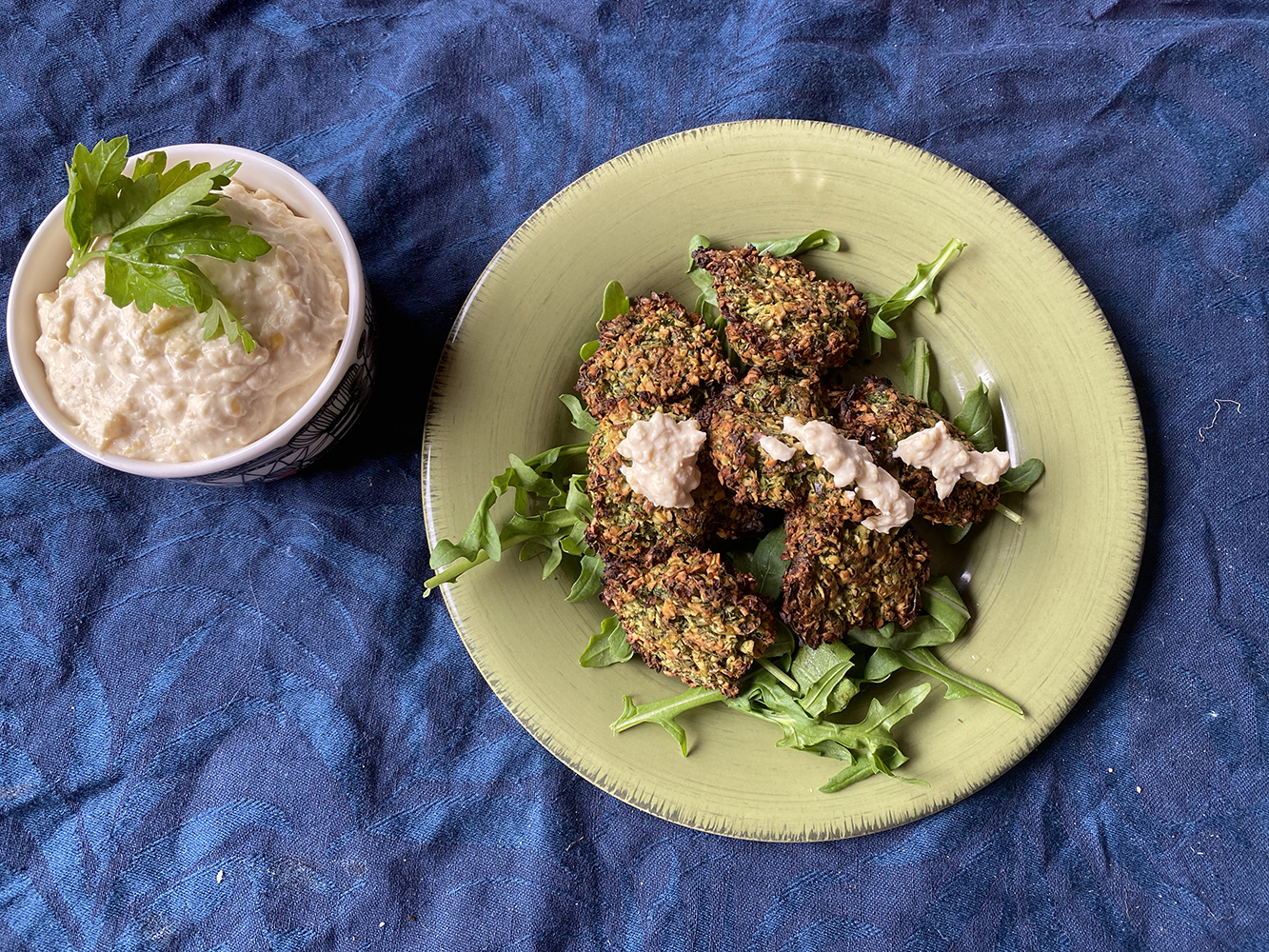 15 Nov

Is falafel healthy? – try this vegan baked falafel

There is nothing healthy about a deep-fried falafel, but now you can have healthy baked falafels that are vegan and delicious. In this blog post, we will show you how to make a healthy baked falafel recipe, with just a few ingredients. As well as discuss how healthy baked falafel is compared to fried falafel. You can also find out the history of the recipe and why they were developed in Egypt. We hope you enjoy our healthy vegan recipe for baked falafels!
What is the history and culture of the humble falafel?
The origins of the falafel are often contested. With the Israelis, Palestinians, Lebanese and Yemeni all saying that they invented it. But falafel actually has its roots in Egypt. [1] One explanation is that it was created by Egyptians as part of their culture when making bread with fava beans or chickpeas. And yet, other sources state that because there are no references to anything resembling falafel in pharaonic texts, that it must be a more modern invention. [1]
It is now thought that falafel is a modern phenomenon. The reason for this is the fact that Paul Balta and Farouk Mardam Bey showed that references to falafel only appear in Egyptian literature after the British occupation in 1882. They speculate that the British officers asked Egyptian cooks to prepare a version of fried vegetable croquettes that they had tried in India. [1] In modern-day Egypt, it is used as a healthy snack and is widely available on the high street.
Ingredient substitutions
We used dried or raw chickpeas in this recipe, which is what most recipes suggest. It does mean soaking the chickpeas overnight and then simmering them for 45 mins to an hour. So if you are in a real rush, you could use canned chickpeas instead.
Fava beans are sometimes used as a substitute for chickpeas or as an addition to chickpeas. You might like to try fava beans (if available), to reduce some of the gassy effects of chickpeas on digestion.
Although we suggest using just the leaves and stems of the herbs in the recipe, the leftover stalks and roots can be used to make a tasty salad dressing or curry paste.
I omitted the salt, as I don't usually use salt in cooking. But you could add a little salt if you have enough budget for sodium in your day. This is a healthy baked falafel recipe after all!
What is the nutritional value of vegan baked falafel?
In terms of healthy baked falafels, the green leaves and herbs are rich in Vitamin A, vitamin C, folic acid and other minerals.
Chickpeas add healthy carbohydrates to your diet as well as fibre which helps you feel full for longer. They also contain a good amount of healthy protein and healthy fat. This is important for providing long-lasting energy throughout the day.
You can find the nutritional information for this recipe in the panel at the end.
What are some myths about healthy vegan baked falafel?
Some people think healthy baked falafel is not healthy because it contains chickpeas. But this couldn't be further from the truth! Chickpeas are a great source of fibre and protein, which keep you feeling full for longer after eating them.
Another myth about falafels is that it was brought to Jerusalem by slaves at the time of the pharaohs.
Why are vegan baked falafels healthy?
There's nothing healthy about deep-frying your food. But there is something very tasty about our healthy baked falafel recipe. By baking healthy vegan falafels, you're avoiding the extra fat that goes with it! Furthermore, due to the deep-frying process, the oils that are used (usually vegetable oils) change their structure as part of the process and this can result in very unhealthy trans fats inevitably being consumed.
Our healthy baked falafel is also packed full of herbs which can have a range of health benefits as well as taste delicious!
Traditional fried versions might be tasty, but healthy vegan baked falafels are even better. They capture all the flavours of fried healthy vegan falafel with fewer calories and more nutrients, making them a great healthy snack or appetiser to try!
What is in healthy vegan baked falafels?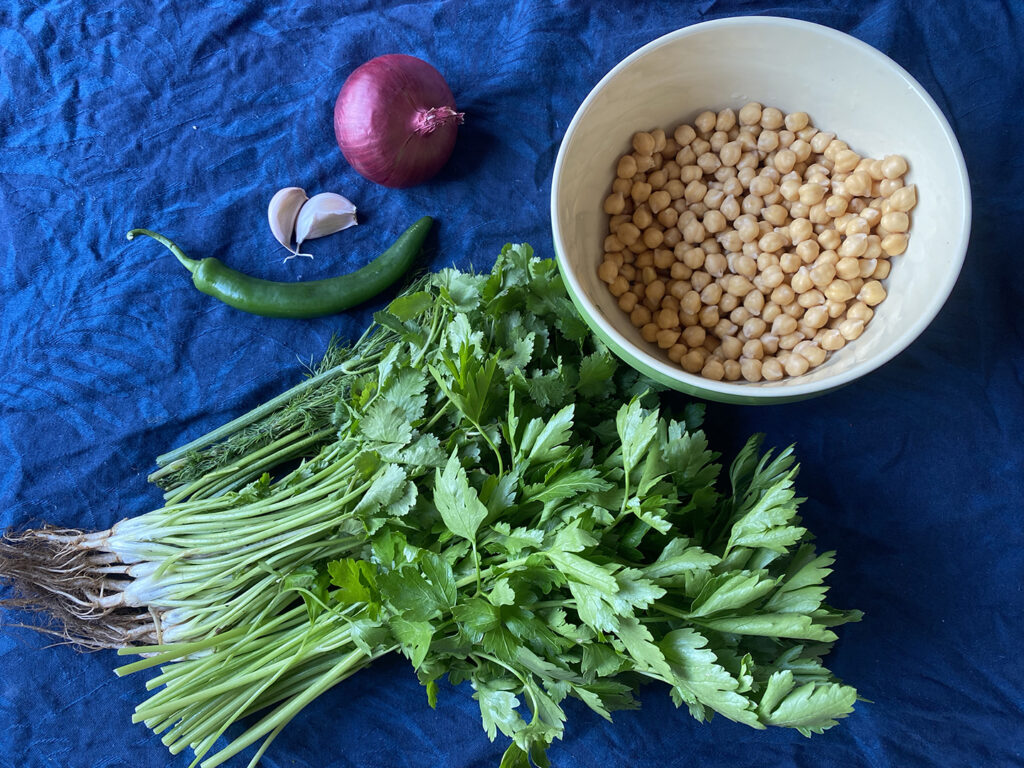 Our healthy baked falafel recipe for vegan baked falafel includes:
raw, dried, chickpeas, and/or fava beans – these are soaked for at least 12 hours and simmered in water for at least 45 minutes
parsley – any kind of parsley will work for this recipe
dill – adds a wonderful fragrance and tangy taste to the dish
coriander – another lovely herb that adds a lot of flavours
onion and garlic – traditional recipes don't often use onion, but it adds another dimension to the flavour
fresh chilli – successful vegan baked falafel has a bit of heat in them, especially in the raw mixture. It works to bring out the flavours of chickpeas and herbs
How do I make healthy baked falafels?
This healthy baked falafel recipe is just as easy to make as traditional fried healthy vegan falafel. It's simply a case of adding your healthy vegan baked Falafel ingredients to a food processor or blender to mix them together and baking them until golden brown!
FAQs
Is falafel healthy?
Falafel can be very healthy if it is not deep or shallow fried in oil. The raw ingredients are very nutritious and contribute vitamin C,
What are some healthy alternatives to deep-fried falafels?
Falafels can be baked or pan-fried instead of being deep-fried in oil. They taste great this way too, but an even better alternative is to bake them.
Can falafels be stored and frozen?
It is a good idea to rest the falafel mixture in the fridge for an hour so before baking. This helps the mixture to firm up and become easier to make into discs. If you bake the number of falafels you wish to serve on that day, the rest of the mixture can stay in the fridge for up to 3 days.
If you want to cook all the falafels at once, you can refrigerate the cooked falafels and eat them with this hummus recipe as a snack.
You can also freeze the cooked falafels and simply heat them up in an oven when you are ready to serve them.
How to serve falafels?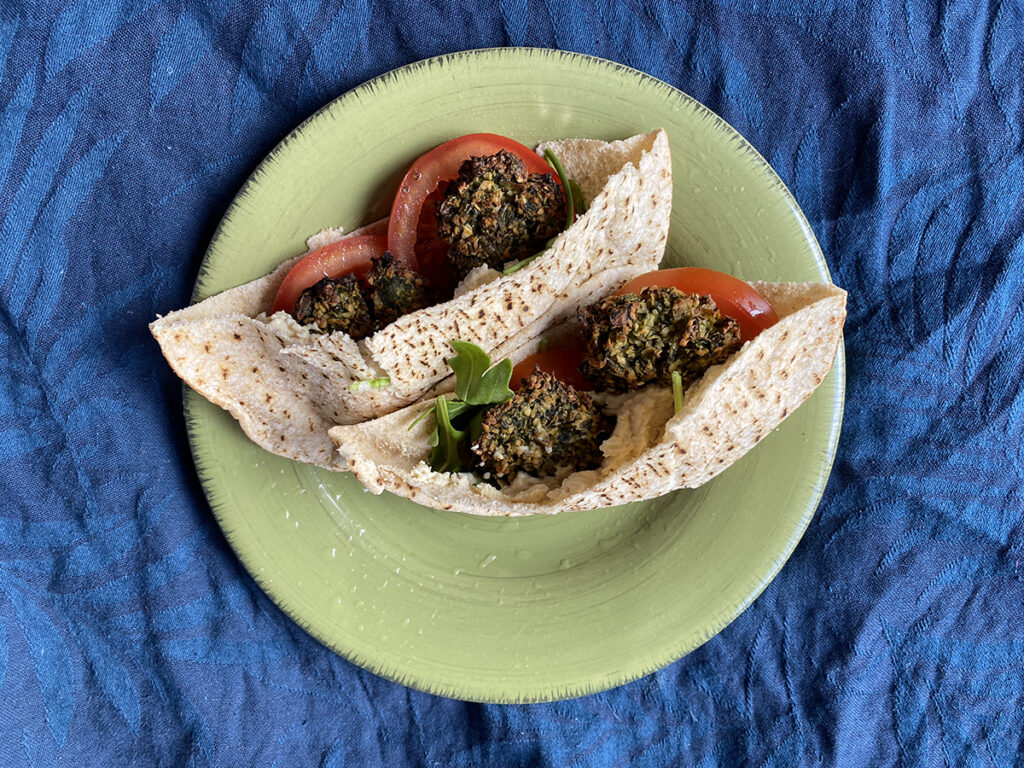 Feel free to eat these healthy baked falafels as a snack. Another popular way to eat them is to stuff them into pita bread with salad and hummus and sauces. To really get the authentic taste, you could add a pickled vegetable to the pita, and add sauces such as chilli, mango sauce and tahini sauce.
If you are just keen to have a simple meal, then you can have a simple pita with leaves, tomato, cucumber, your baked falafels and hummus. It really is a fresh, and delicious lunchtime meal!

Is falafel healthy? - try this vegan baked falafel
Author:
Friends of the Earth
Recipe type:
Lunch, dinner, snack
Prep time:
Cook time:
Total time:
Recipe for healthy baked falafels, which can be eaten with hummus and salad in a pita or as a snack.
Ingredients
1 cup of dried chickpeas (if you are making falafels and hummus dip together) or ½ cup if you aren't making hummus. (1 cup of dried chickpeas = 3 cups of soaked chickpeas)
½ cup coriander, chopped
½ cup dill, chopped
½ red onion, roughly chopped
2 cloves garlic, chopped
1 chilli
Instructions
Drain the soaked chickpeas, setting aside approximately 1 cup for the hummus.
Place the chickpeas and all the remaining ingredients in a food processor and process until the mixture reaches the consistency of fine bread crumbs.
Cover mixture and let stand in the fridge for 30 minutes or more.
Turn the oven on to 225 degrees C or 425 degrees F. Line a baking sheet with parchment paper.
Take a tablespoon of mixture and make a small disc shape, then place the disc on the parchment paper.
Although the falafel discs will be a little fragile, the mixture should hold together, if not, and the mixture is too wet, add a tablespoon of chickpea flour. If the mixture is too dry add a couple of teaspoons of water.
Bake the falafels for 25 - 35 minutes, flipping halfway through.
CREDITS
This recipe has been very lightly adapted from a recipe in the Friends of the Earth 2021 Calendar.
Nutritional information
Did you make this recipe? Leave a comment below and share a picture on Instagram with the hashtag #myhealthzest
References
[1]. Lee, A. 2019, 'Falafel – Historian's Cookbook', History Today, < https://www.historytoday.com/archive/historians-cookbook/falafel > accessed 15th of November 2021.
[2]. Tirmizi, B, 2015, 'Food stories: Falafel' on Arab America, < https://www.arabamerica.com/food-stories-falafel/ > accessed 15th of November 2021.