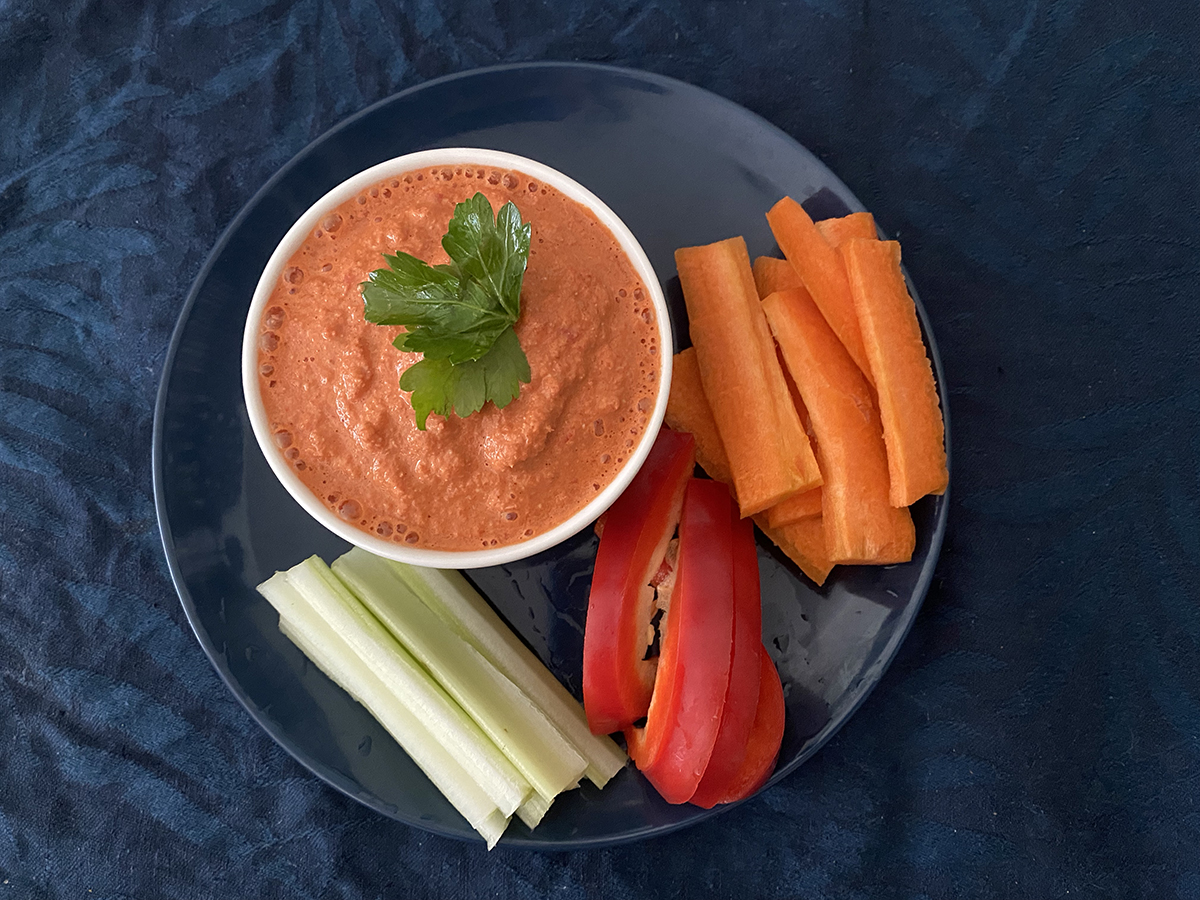 25 Oct

Spicy capsicum dip – healthy snacking

After reading the Liver Cleansing Diet book by Sandra Cabot, I realised how wonderful it can be to snack on fresh veggies before dinner or while cooking dinner. This spicy capsicum dip is the perfect excuse to do just that! It is a great accompaniment to any veggies you might have in the fridge. And so, it can form the basis of a very healthy mid-afternoon or pre-dinner snack. The wonderful vitamins bursting out of the capsicum and good fats in the walnuts make this snack highly nutritious. And it is very tasty too. And easy to make!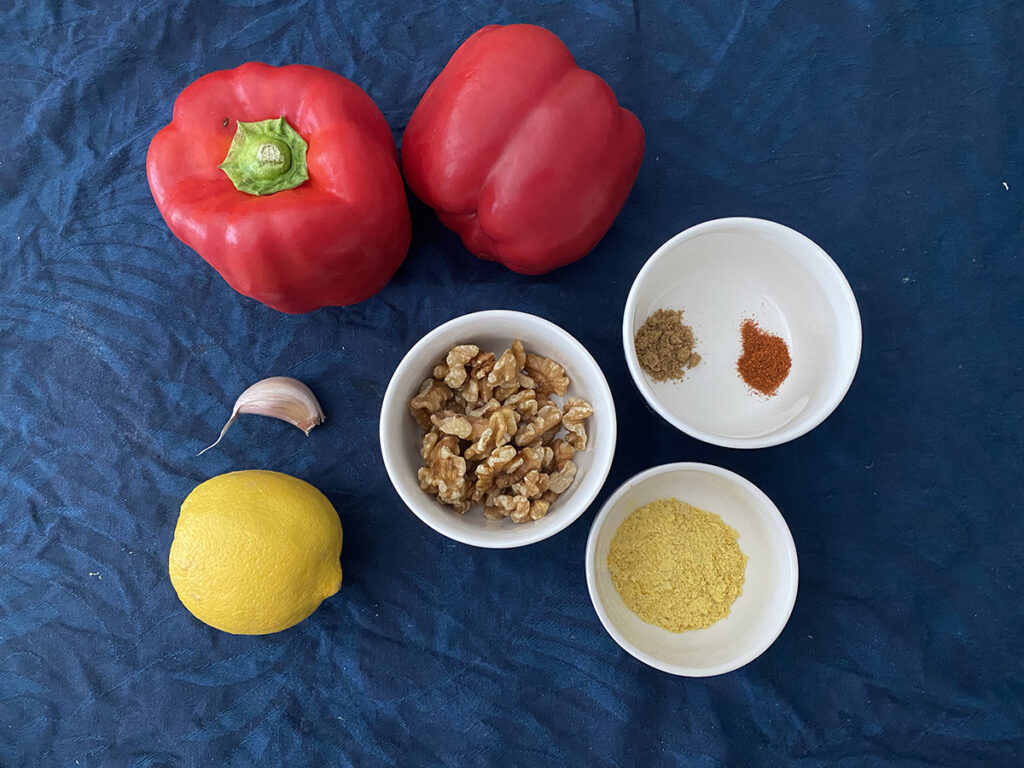 Ingredients in the raw spicy capsicum dip
Red capsicum (pepper) – naturally high in vitamin C, vitamin A, and B vitamins
Walnuts (raw) – provide a wonderful burst of omega 3 fatty acids (there is a reason why a walnut is shaped like a brain!)
Nutritional yeast – provides a slightly cheesy flavour to the dip
Garlic – for flavour
Lemon juice – brightens the flavours of the dip and makes it easier to blend
Cumin – spicy!
Cayenne pepper – with metabolism-boosting properties!
Adaptations
If you were looking to deepen the flavours and have more time, you could roast the capsicums and toast the walnuts. And while this might enhance the flavour profile, it would also destroy some of the nutritional content of these ingredients. We are using them raw in this recipe
Serving the spicy capsicum dip
The dip can be served with batons of carrot, capsicum, celery, cucumber or even whole snow peas. As capsicums are not in season in spring, it is a dip best served in summer or autumn.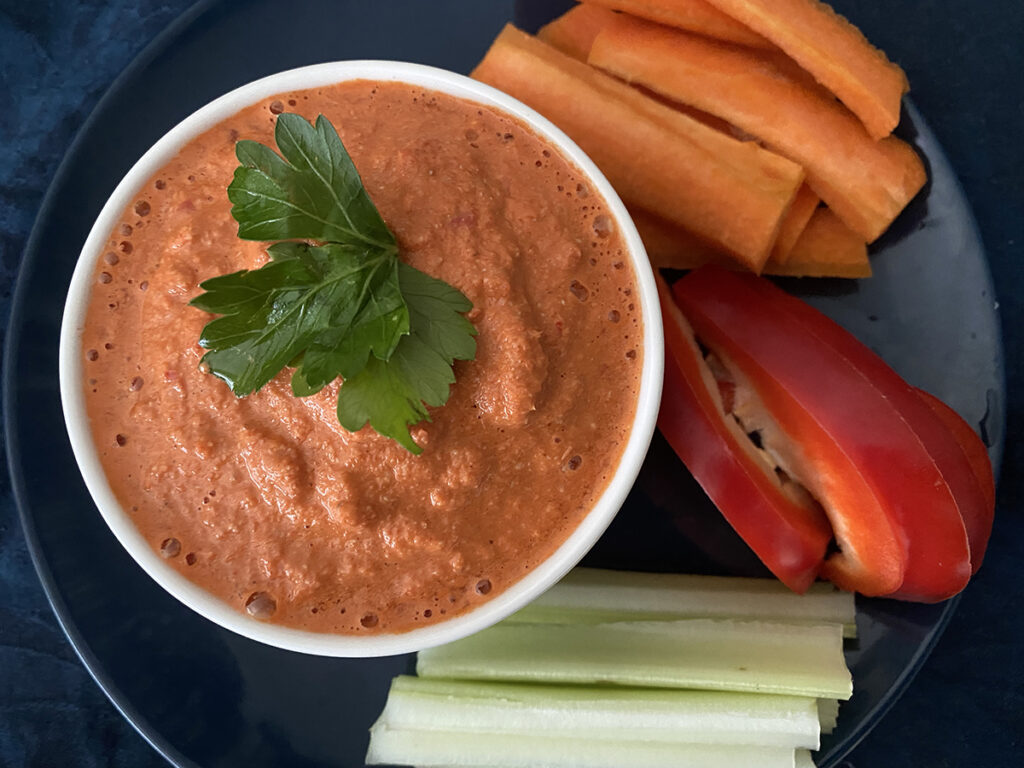 Spicy capsicum dip -
Recipe type:
Snack, Appetiser
Prep time:
Cook time:
Total time:
This spicy capsicum dip recipe is tasty and healthy and easy to make. The approximate yield will be 1 cup of dip.
Ingredients
2 red capsicum (1½ for the dip and ½ for strips for dipping)
½ cup of raw walnut halves (soaked for 15 minutes)
1 tbsp of nutritional yeast
1 clove of garlic, minced
Juice of ½ a lemon
½ tsp of cumin
⅛ tsp of cayenne pepper
Instructions
Put all the ingredients in a blender and blend until smooth. You might need to push the chunks of capsicum down a bit to get the blender moving.
Serve with fresh veggie sticks or use as a spread on a sandwich, or with crackers.
Leftovers
This dip can be put into an airtight container and kept in the fridge for 3 – 4 days. I would recommend cutting the veggies fresh rather than pre-cutting them because they can lose their nutritional value if pre-cut. If you do end up with leftover veggies, then put these in a separate airtight container and bag and try to use them within the next day or so.
It is a great way to incorporate more vegetables into your diet in a convenient and tasty way.
Nutritional information
Did you make this recipe? Leave a comment below and share a picture on Instagram with the hashtag #myhealthzest