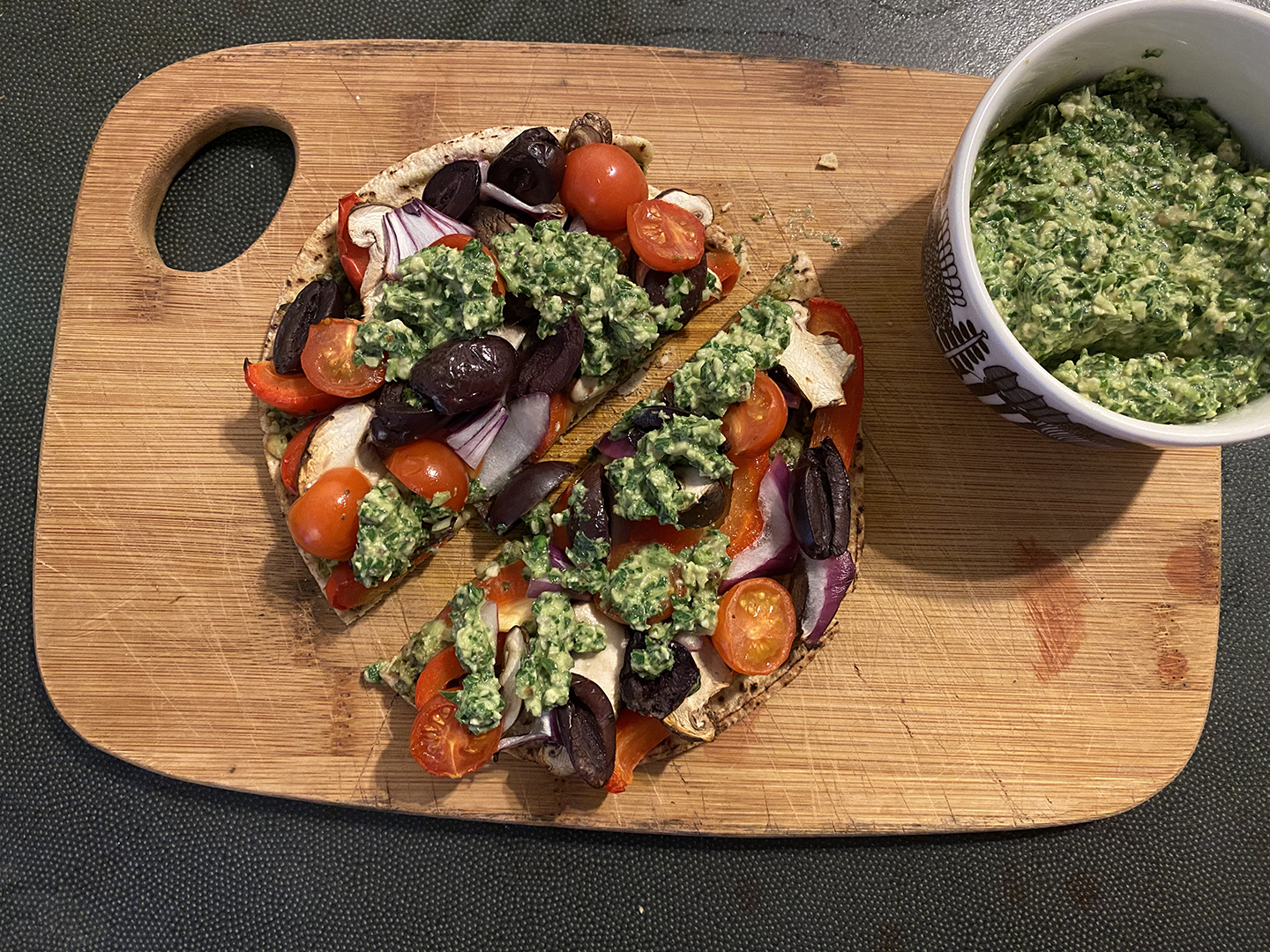 22 Dec

Dairy-free pesto pizza: vegan recipe that will hit the spot

Who says that you need to have cheese on pizza? This dairy-free pesto pizza will hit the spot and leave you satisfied. It is so quick to make! It only takes a few minutes to prep, and just 15 minutes to cook. The best part about vegan pesto pizza is that you can put whatever toppings on it! This pesto recipe will give you instructions for making the pesto and suggestions for what to put on your pesto pizzas. If you are looking for an easy vegan recipe this is it!

You don't even need to make pizza dough! The trick to an easy holiday or weeknight meal is to use small pita bread as your pizza base. Pita is both delicious, healthy and convenient, and have fewer calories and refined carbohydrates as traditional pizza bases.

Also, since you are making a vegan pesto pizza, another trick is to cook the pizza for at least 15 minutes until all the toppings are tender and delicious. As a rule of thumb, I wait until the pita bread is browned on the edges and the mushrooms are tender.
Pesto pizza toppings
One question that is often asked is what to use for toppings for pesto pizza. The options are limitless! This vegan pesto pizza is a great way to use up veggies that you might have leftover in the fridge. You can also buy fresh ingredients and have enough to make a really easy meal for four nights.
Here are some ideas:
Pesto sauce
You have options here. Your pesto could be made with basil or roquette (arugula). It could contain pine nuts or walnuts or any other sort of nut. If you are making a vegan pesto pizza you would probably include nutritional yeast instead of parmesan and you can use the juice of a lemon, or even store-bought lime juice as I did (because I forgot to buy a lemon).
If you are looking to make a traditional tomato-based sauce you could use a store-bought marinara sauce or even tomato paste sprinkled with dried oregano.
Capsicum (red or green)
Tasty capsicum (or peppers) has a wonderful place on veggie pizzas generally but does go particularly nicely with pesto pizza.
Red onion
It adds a lovely spicy flavour to your pesto pizza, and it does mellow in the oven. If you are sensitive to the taste of onion, please omit this.
Artichokes
I generally buy a small jar or can of artichokes and cut them into chunks. They add a lovely flavour and usually, you will have enough for four pesto pizzas.
Olives
Another tasty addition. You can usually find these pitted at your deli or supermarket. They even come in glass jars in some shops.
Mushrooms
Tasty mushrooms become lovely and tender during the cooking process and go really well with the pesto flavours
Cherry tomatoes
These sweet, tangy tomatoes are great in spring and summer and autumn. They will shrivel in the oven but give your vegan pesto pizza a burst of flavour.
History of pesto
Pesto is an Italian pesto sauce traditionally made with basil, pine nuts and parmesan cheese. This pesto recipe substitutes the traditional ingredients for vegan alternatives! The word pestle originally referred to a cooking implement used in the Mediterranean region consisting of a large mortar-like bowl made from stone or wood called "pilos" (πηλός).
The pesto recipe originated in Italy, perhaps around 1000 AD. The word "Pesto" comes from the Italian pestare (to pound) and is originally derived from Latin pestlere (to pound or crush), but has since come to indicate the specific paste made using this process. In fact, pesto is derived from the Genovese pesto, pesto alla genovese. It traditionally consists of crushed garlic cloves, basil leaves and European pine nuts (Pinus pinea L.) blended with olive oil, Parmigiano-Reggiano cheese and coarse salt to form a smooth paste.
Making pesto for pesto pizza
Pesto can be made in a food processor using the pulse button or by hand with a pestle and mortar although most cooks now use either a blender or food processor which have become widely available since electric mixers were invented in the 1930s.
Pesto is traditionally made in a pestle and mortar; modern blenders, however, make pesto preparation much easier and less time-consuming because they do not require manual labour to operate. Pulse action prevents overheating of the food which can occur when ingredients are blended for too long or at high speed.
Uses for leftover pesto
You can freeze leftover pesto for up to three months. It will also last up to five days in the fridge. One great variation on pesto pizza is to make pasta, by cooking the pasta, stirring through the pesto and sauteed veggies (as above), to make a very nourishing and tasty pasta dish if you don't feel like veggie pizza.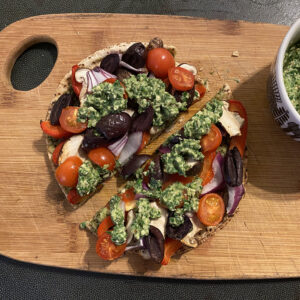 Vegan pesto pizza
This is a kitchen sink kind of pizza. If you have the ingredients for pesto, and some pita bread, you can put whichever vegetables you have available onto the pizza, and bake until tender and delicious.
Ingredients
For the pesto
1

bunch

basil (or 100 g roquette)

3

tbsp

olive oil

1

clove

garlic

1

tbsp

nutritional yeast or parmesan cheese

1/4

cup

pine nuts or walnuts
Toppings for pesto pizza
1/4

capsicum

1/4

red onion

1

handful

mushrooms (any kind that you have available)

1/4

punnet

cherry tomatoes

6-8

pitted kalamata olives

1/4

cup

jarred or tinned artichokes
For serving
1

tsp

red chilli flakes (optional)

few

basil leaves (optional)
Instructions
First make the pesto. Put all the ingredients except the olive oil into a food processor or blender and pulse until well mixed. Add the oil in a steady stream and pulse until well incorporated.

Chop the veggies and preheat the oven to 200C.

Spoon one tablespoon of pesto onto the pita bread and top with the chopped veggies. Cook for 15 minutes or until veggies are tender and the pita is browned and crispy at the edges.

Dab the top of the pizza with small dollops of pesto (1 tbsp in total). Cut and serve.
Nutrition information
Did you make this vegan ginger cookies recipe? Leave a comment below and share a picture on Instagram with the hashtag #myhealthzest