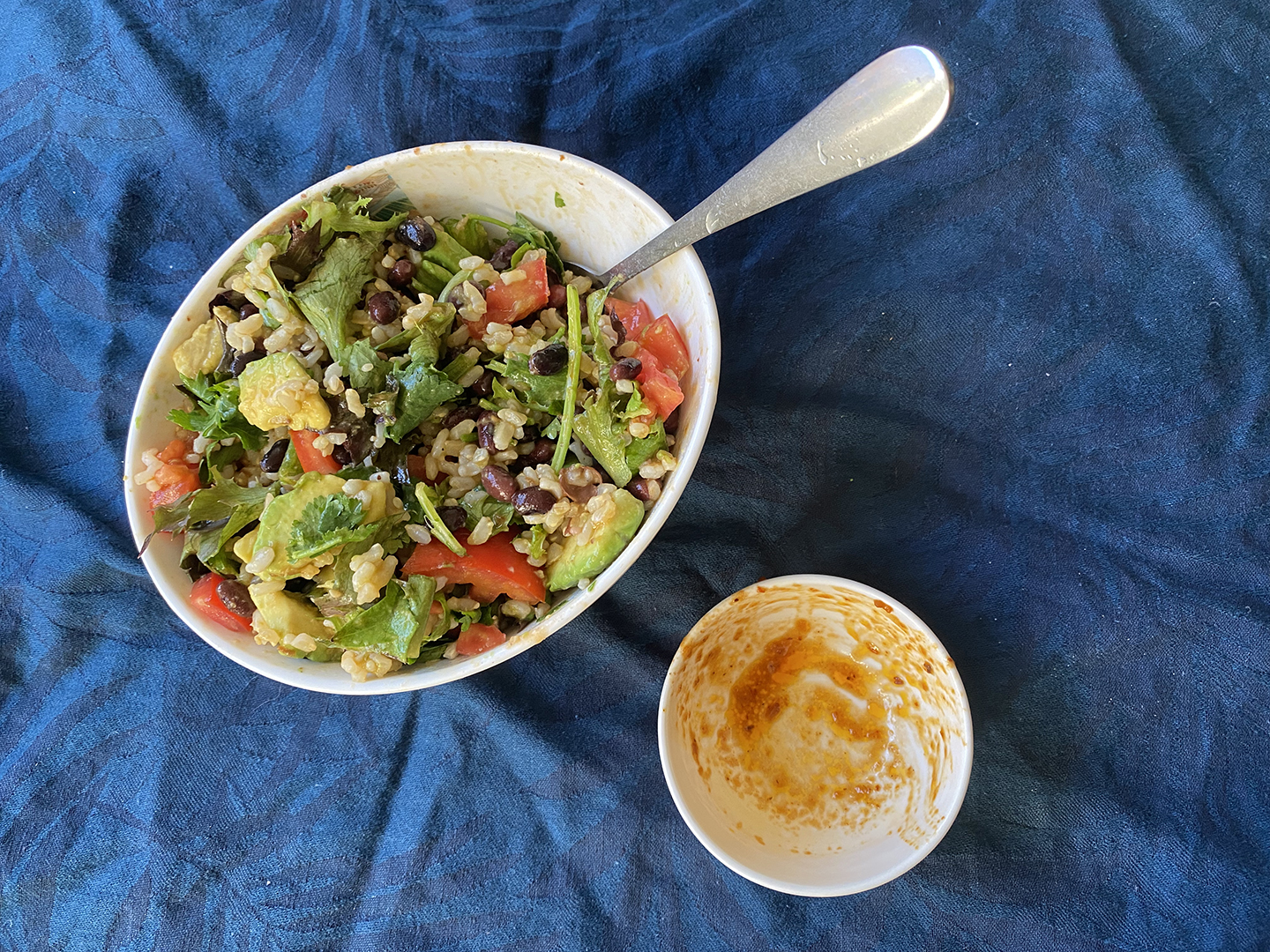 27 Jan

A vegan chipotle burrito bowl recipe that will satisfy and delight

Looking for a healthy and delicious summer dinner? Look no further than this vegan chipotle burrito bowl recipe. This recipe is so easy to make, and it is packed with flavour. You will love the combination of spices and flavours in this dish. And best of all, it is vegan and dairy-free. So you can enjoy this meal without feeling guilty. A healthy chipotle bowl recipe will make you feel great for hours.

Some nights you just couldn't be bothered cooking, especially when you are in the middle of the summer holidays, or feeling unwell, or just lazy! This recipe is perfect for those nights.

If you have never tried a burrito bowl before, I would suggest that this recipe is a good one to try. It doesn't sound like it will be all that flavoursome or tasty, but when you end by tossing the delicious dressing through the burrito ingredients, you will end up with a wholesome and delicious bowl of yum.
Ingredients in the perfect chipotle bowl recipe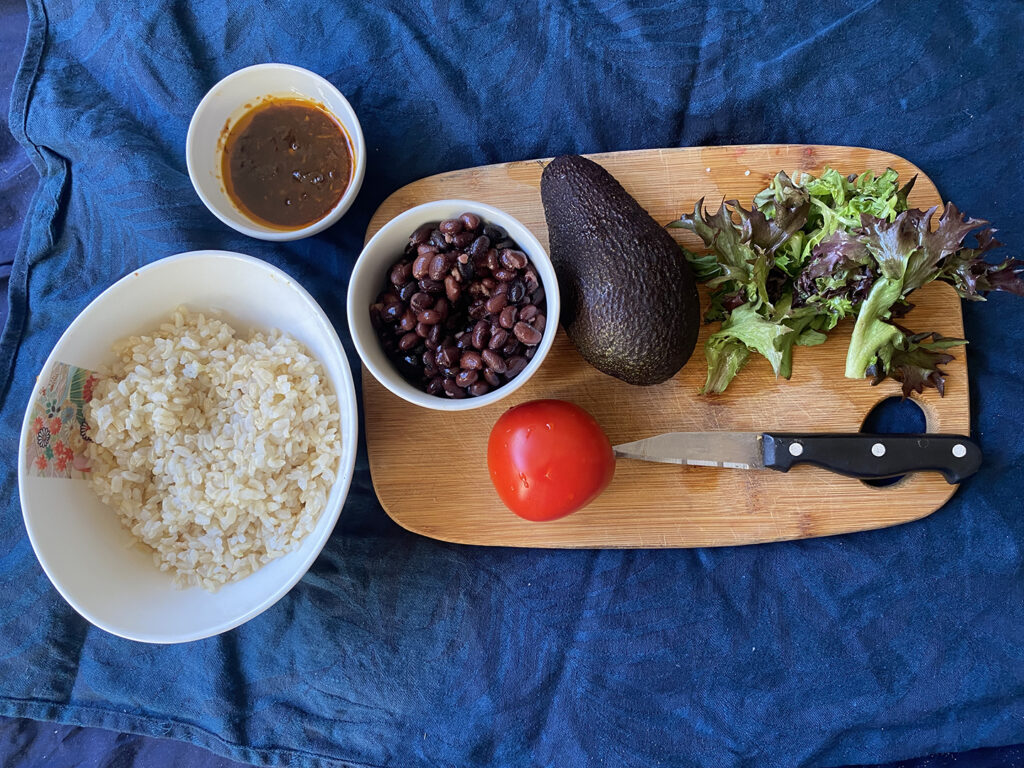 The ingredients in this chipotle burrito bowl recipe are very simple and easy to find.
Cooked brown rice – allow about 30 – 35 minutes to cook your rice – you could swap this with cooked quinoa if you are worried about the carbs
Canned black beans
Lettuce leaves – either a mesculin mix or just chopped cos (romaine)
Tomatoes – another perfect way to take advantage of the tomato season – if you could be bothered, you could add coriander and red onion and lime juice to turn them into a pico de gallo
Avocado – make sure to choose one that is nice and ripe
Coriander (cilantro) – perfect as a seasoning
Chipotles in adobo sauce – should be available at your supermarket
Olive oil
Lime juice (or juice of a lime) – mmmm
Maple syrup (or honey if you prefer)
Garlic – adds an extra depth of flavour
Salt
Some things that you don't need are sour cream or cheese. The avocado provides enough creaminess and there is ample vegan protein in the black beans and/or quinoa or rice. Avoiding these ingredients make your dinner ethical, but also a healthy chipotle bowl recipe, as dairy and cheese are not great for your heart health or brain health and should be eaten sparingly.
How to make a delicious burrito bowl
It really is as simple as cooking the rice, chopping the tomatoes, avocado and lettuce, opening and draining a can of black beans, adding the sauce ingredients to a small saucepan, cooking for two minutes and then adding all the ingredients to a bowl and tossing it through. It takes less than five minutes once the rice is cooked to put this healthy chipotle bowl recipe together.
Although it doesn't sound all that amazing, don't be fooled. It is absolutely delicious and has that kind of vatta grounding energy that will stay with you for hours after you eat it.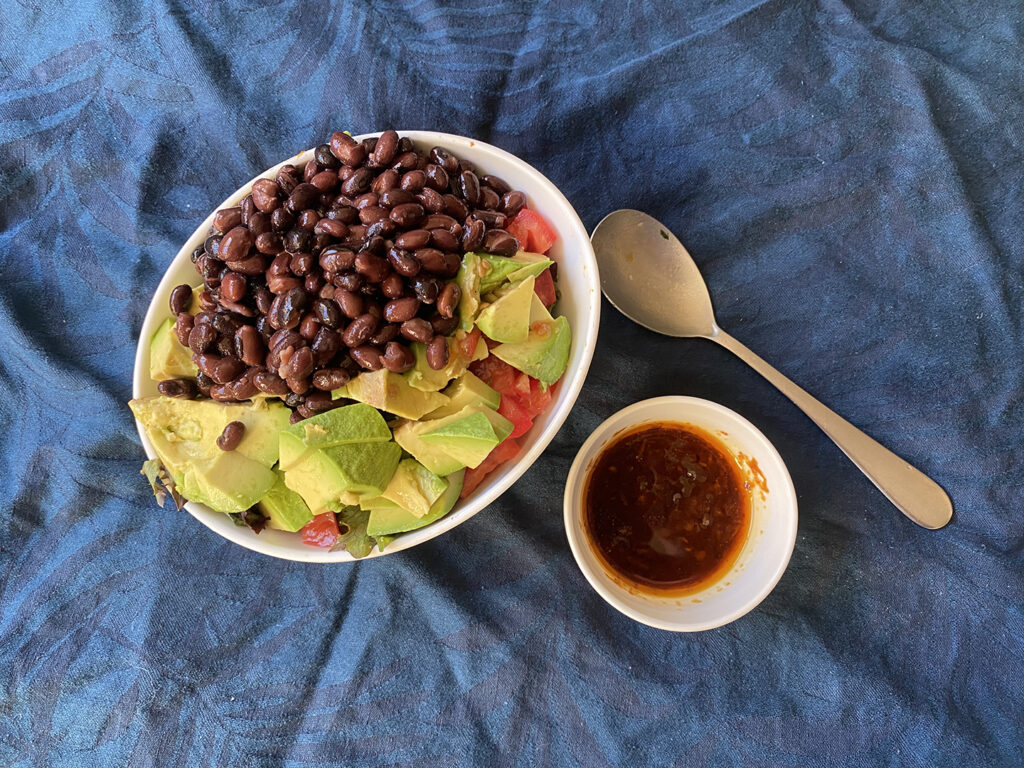 What is the history of a chipotle burrito bowl?
The chipotle burrito bowl is a relatively new invention, but it has quickly become popular. It was first created in the early 1990s by a chef in San Francisco who wanted to create a healthy and tasty meal that could be eaten on the go. The dish combines flavours from Mexican and Southwestern cuisine, and it is perfect for summer evenings. So why not give it a try? You won't be disappointed.
Why is a vegan burrito bowl so nutritious?
A vegan burrito bowl is a great way to get the recommended dose of vegetables, with two full serves of veggies, it helps to get you closer to your five servings. The ingredients in this recipe are all packed with nutrients. The tomatoes and lettuce are rich in vitamin C, and the beans and rice add protein and healthy carbohydrates to the nutritional value of this meal. Avocado is filled with healthy monounsaturated fat, so the meal itself is very balanced and healthy with only x calories.
Storing and leftovers
The recipe below serves two so you can either double the recipe or if you are single, eat it over two nights. I would recommend cooking all the rice, and the chipotle sauce and then just reheating the rice and sauce, before adding fresh ingredients and tossing it all – then eating immediately.
I feel like it would be better warm, but you could try to assemble the ingredients and pack it for lunch – if you do this, please let me know how it goes?
Tasty extras for an interesting chipotle bowl recipe
One other thing! I also think that one thing that might be really nice to add to this healthy chipotle bowl recipe optionally, are little tortilla chip crumbs. If you can break some tortilla chips in a mortar or pestle or just with the back of a spoon, adding them to the mix, might really lift the experience of this meal to new heights.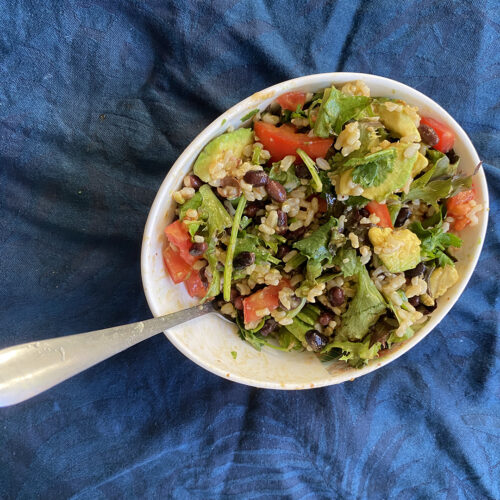 Vegan chipotle burrito bowl
Almost everything you love about a Mexican burrito, but deconstructed and put together as a warm salad. Super easy to make. And very tasty
Ingredients
2/3

cup

uncooked brown rice

1 x 410g

can

black beans

drained and rinsed

100 g

lettuce leaves

roughly chopped

1

avocado

diced

2

tomatoes

diced

1

handful

coriander (cilantro) leaves

chopped
For the chipotle sauce
1

tbsp

chipotle in adobo sauce

1

tbsp

olive oil

1

clove

garlic

crushed

1

tsp

honey or maple syrup

1

tsp

iodised salt

3

tbsp

lime juice (about 1/2 lime)
Instructions
First, prepare the rice. Bring the uncooked rice to boil in a medium pot of water. Reduce heat slightly and continue a lively simmer for 25 - 30 minutes, until tender and cooked to your liking. Allow it to cool slightly.

For the chipotle sauce, place all the ingredients in a small pan over medium heat and cook for two minutes, then remove from the heat.

Divide the rice between the bowls and top with drained beans, lettuce, avocado, tomato and coriander. Pour over the sauce, toss the salad together and serve immediately.
Notes
If you wish to keep a serving for another time, keep the rice and the second half of the sauce in airtight containers in the fridge. When you are ready to eat the burrito bowl again, simply reheat the rice and sauce, perhaps adding a splash more olive oil and lime juice to the sauce, and combine as per the recipe above.
I hope you enjoy this delicious and healthy chipotle bowl recipe as much as I do when I make it. There really is nothing so lovely as the feeling of being sated with a truly healthy meal that helps you to feel grounded all evening.
Nutritional information
Did you make this vegan chipotle burrito bowl recipe? Leave a comment below and share a picture on Instagram with the hashtag #myhealthzest