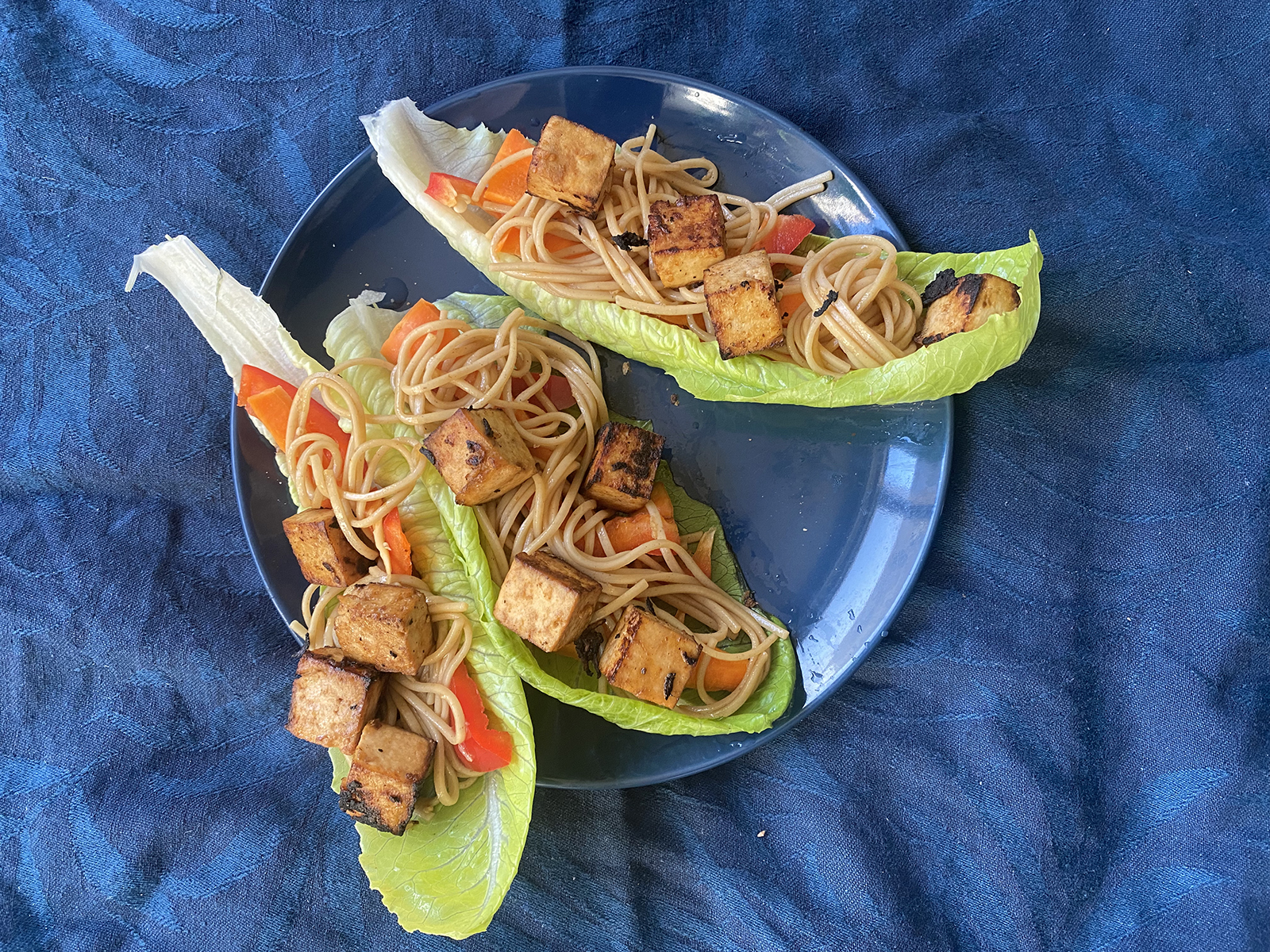 20 Jan

A recipe for tofu lettuce wraps: Asian, vegan, and nutritious

Looking for a delicious, vegan lettuce wraps recipe? Look no further! In this blog post, we will be sharing our favourite tofu lettuce wraps recipe with you. This recipe is packed full of flavour and nutrition, and it's really easy to make. We will also be talking about the origins of some of the ingredients in this recipe, and how they contribute to your overall health. So, what are you waiting for? Let's get cooking!
Summer tofu lettuce wraps recipe
When summer hits, it can be nice to eat light, refreshing and cooling food. And because we are often on holiday during this time, it can be even better if a dish is super easy to put together. That way, when you feel lazy and indolent by the beach or the pool, you can roll home and whip up this recipe in just a few minutes.
Although this recipe is light and refreshing, we have added an extra source of protein in the soba noodles, so that it keeps you feeling full throughout your evening.
If you are worried about histamines for any reason, then it would be ideal to eat all of the meal on one evening. But if histamines are not an issue, you can make enough for two to four nights meals, and have an even easier meal to whip up in no time.
One of the best things about this recipe is that they are completely vegan. Enjoy these vegan lettuce wraps guilt free.
Ingredients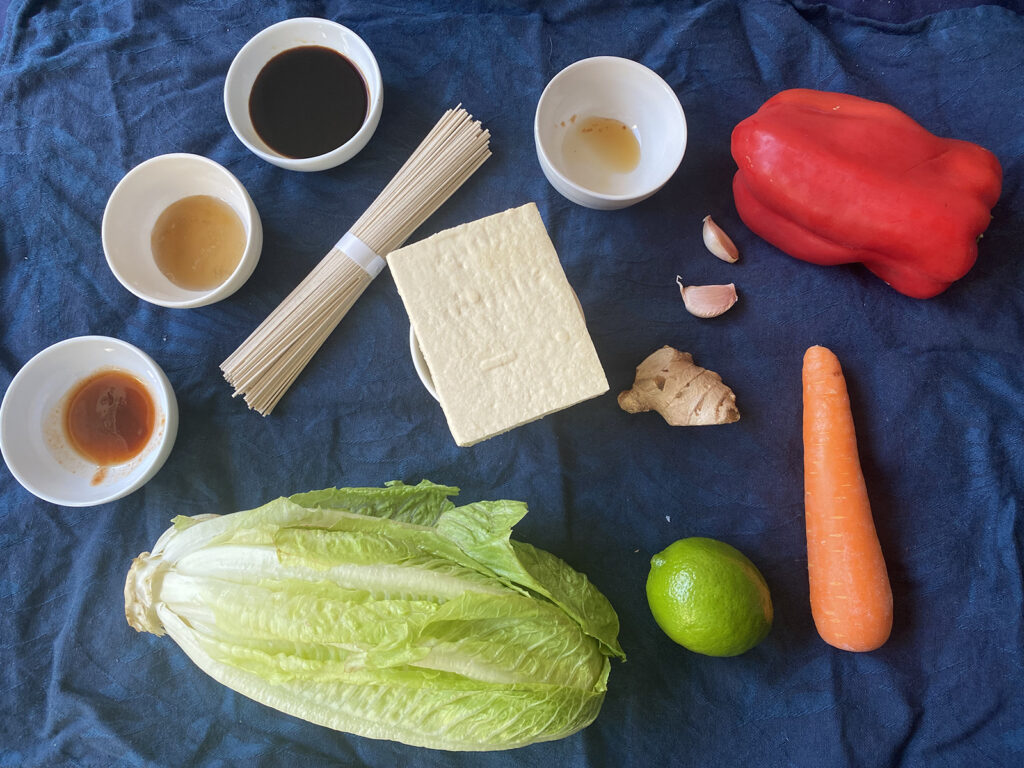 Cos (romaine) lettuce leaves – you want them to be big enough to hold a reasonable amount of filling so that you can hold them in your hands
Tofu – if you prefer to use tempeh, then that will work well too
Tamari (rather than soy sauce), sesame oil, lime juice, garlic, ginger, sriracha or other hot sauce – for the marinade
Fresh capsicum, carrot and radish perhaps – for the fillings
Soba noodles – a nutritious and filling noodle to add to the dish
Sesame seeds – for taste!
Nutritional benefits
The nutritional benefits of capsicum and carrot are clear. They are both rich in beta carotene – an antioxidant that is great for eye health and helps to keep our skin looking good. They are also a good source of vitamin C, which is important for our immune system.
Radishes are not as commonly eaten as carrots or capsicum, but they are definitely worth adding into the mix! Radishes are healthy because they are a good source of vitamin C, potassium and magnesium. They also contain phytonutrients which can help to reduce inflammation in the body.
Cos or romaine lettuce is a great source of vitamin A and K, as well as folate. Folate is important for pregnant women because it helps to prevent birth defects in the baby.
These crunchy, fresh vegetables add a lot of refreshing flavour to the tofu lettuce wraps.
Soba noodles
Soba noodles are made from buckwheat flour, so they contain a good amount of protein and fibre. They are also low in calories, making them
Soba noodles are made from buckwheat flour, so they are gluten-free and provide a great source of protein and fibre. They are low on the glycemic index scale, meaning that they will not cause a spike in blood sugar levels.
Nuts and seeds
Sesame seeds are a good source of zinc, magnesium, vitamin E and omega fatty acids. They have anti-inflammatory properties and can help to improve heart health.
Tofu
Tofu is a great plant-based source of protein and calcium (if it has been fortified). It also contains omega fatty acids and iron, which are beneficial for our health. Some of the health benefits of tofu include its ability to boost heart health, increase bone density, improve blood sugar levels, and help with weight loss.
The tofu provides a good source of protein the tofu lettuce wraps, which helps to keep you satiated all evening long.
Herbs and spices
Ginger is healthy because it is a good source of antioxidants, and it can help to reduce inflammation in the body. It has also been shown to be beneficial for our gut health and can help to improve digestion.
Garlic is another antioxidant-rich ingredient that can help to reduce inflammation. Garlic is also known for its antibacterial properties, which makes it great for our immune system.
Sriracha is a hot sauce that originates from Thailand. It is made from chilli peppers, vinegar, sugar and salt. The peppers used in siracha are typically jalapeno or Habanero peppers, which means that it has a medium to a high level of heat. Siracha has many health benefits, including aiding in weight loss, improving heart health and helping to reduce inflammation.
These beautiful spices make the tofu lettuce wraps so intensely flavoursome.
History of tofu lettuce wraps
Tofu lettuce wraps have their origins in China, where tofu has been eaten for centuries. The dish likely became popular in the west due to its healthy and nutritious ingredients, as well as its delicious flavour profile. It really is very yummy.
Tofu is a food that originated in East Asia, and it is made from soybeans. Tofu is a high-protein food, and it has many health benefits.
How to make tofu lettuce wraps recipe
All you need to do is make the marinade and divide it in half, to marinate the tofu for 30 minutes (or longer). While marinating you can cook the soba noodles. Simply run them under cold water to cool them and then add them to the second batch of marinade. After the tofu is marinated, cook it in some oil until browned and crispy. And then all that is needed to do is to assemble the wraps and enjoy.
If you are cooking this meal just for yourself, then I would suggest leaving the second half of the tofu and soba noodles in the marinade overnight, and using the leftover marinade on the last serving of tofu, just before eating.
Enjoy these vegan lettuce wraps on a warm summer night. They are so refreshing.
Tofu lettuce wraps
A refreshing light meal, which is low in fat. The addition of soba noodles makes the dish more substantial - enough for a light dinner
Ingredients
225

g

firm tofu - cut into 1 cm cubes

1

tbsp

olive oil

90

g

soba noodles
For the marinade (divided)
6

tbsp

tamari or salt-reduced soy sauce

4

tbsp

lime juice

1/2

tsp

sesame oil

3

tbsp

maple syrup

4

tsp

sriracha

2

tbsp

fresh grated ginger

2

cloves

garlic
For the wraps
1

carrot - cut into matchsticks

1/2

red capsicum - cut into matchsticks

2

radishes (optional) - thinly sliced

4 - 6

medium

cos (romaine) leaves

1

tbsp

sesame seeds
Instructions
In two separate bowls combine half the marinade ingredients in each bowl (to use all the ingredients in total). To one bowl add the cut tofu pieces and set aside for 30 minutes. Set aside the second bowl of marinade.

Meanwhile put a medium saucepan of water on the stove to boil. Once boiling, add the soba noodles and boil for four minutes. Drain and cool the noodles by running under cool water. Add the noodles to the second bowl of marinade and toss to coat.

Heat oil in a frying pan on medium. Using a slotted spoon transfer the tofu to the pan and fry for 5 - 6 minutes, turning occasionally, until golden brown and lightly crispy. Add any remaining marinade and cook until it has coated the tofu and becomes sticky.

Arrange the lettuce leaves on a plate and add half of the carrot and capsicum (and optional radish) across the leaves. Then add half the soba noodles to the leaf cups, and finally the cooked tofu. Sprinkle with sesame leaves and eat immediately.
Nutritional information
Did you make this vegan lettuce wraps recipe? Leave a comment below and share a picture on Instagram with the hashtag #myhealthzest