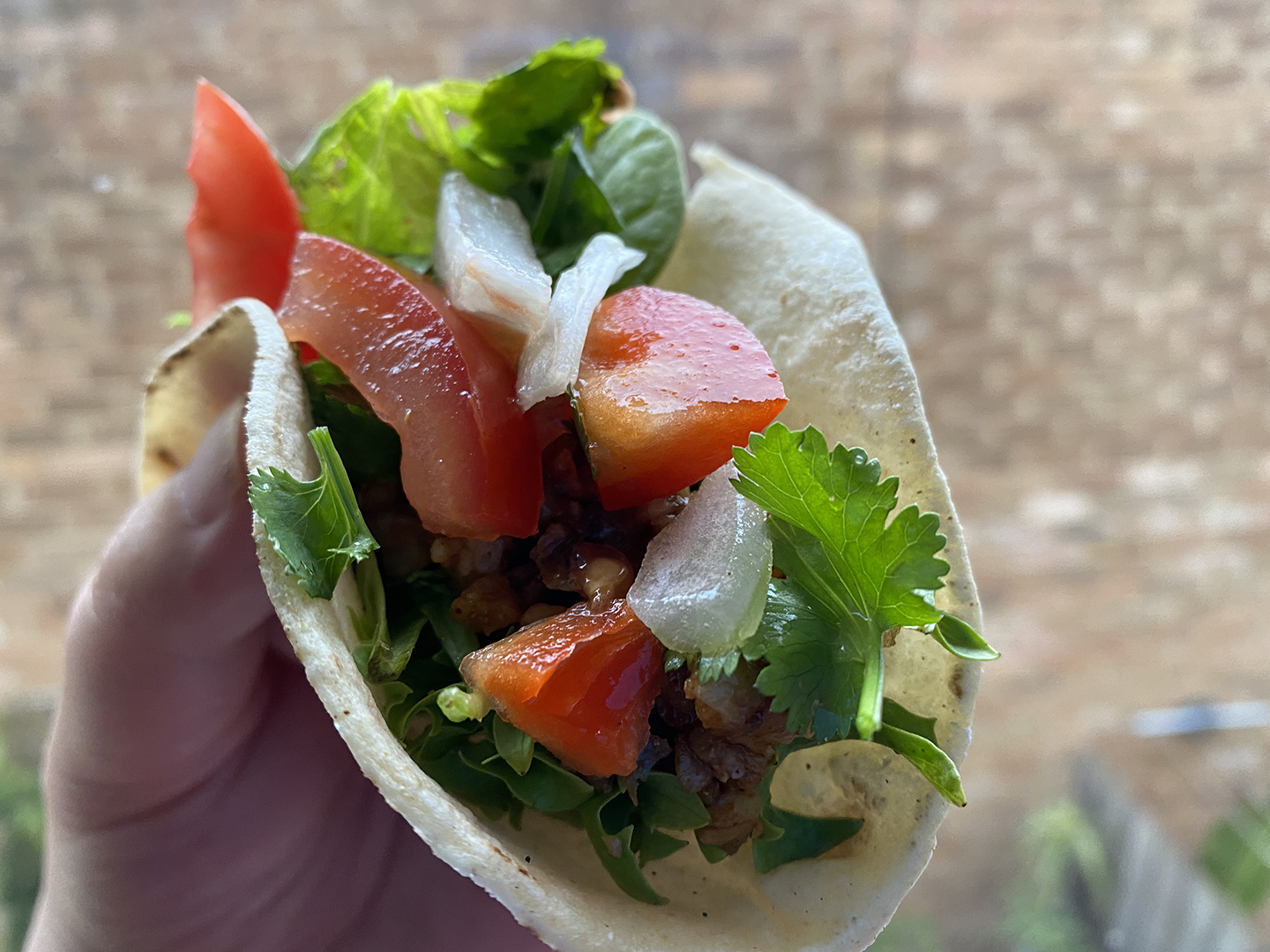 06 Dec

Healthy summer food: walnut taco meat recipe

I have been hearing a lot lately about how tacos are one of the healthiest foods you can eat. I don't know if it is because they are tasty, easy to make, or just so good for you, but this could not be truer! In today's post, we will show you our vegan walnut taco meat recipe that is healthy and quick to prepare. With this walnut meat recipe, tacos can incorporate all the ingredients that you would find in a traditional taco with pico de gallo and coriander avocado dressing on top!
Summer tacos!
Tacos are great all year round, but they are especially nice in summer when tomatoes, coriander and capsicums are in season. This means that we can go nuts with the pico de gallo or salsa, and really delight in fresh summer flavours.
I have eaten tacos my whole life, but when I was growing up, we had hard corn taco shells and beef meat filling with sour cream, cheese, cos lettuce and tomato toppings. My parents would even add chopped bananas to their tacos, which is an addition I have never seen since.
I still really enjoy hard taco shells and use them often when making tacos, but I also like a more refined mixture of toppings for my tacos these days. Hard, corn taco shells are particularly satisfying, because they crunch as you bite into the tasty toppings, and they often crumble to leave shards on your plate so that you can get an extra taste by scooping up all the left-over toppings and taco shards. It is really delicious!
Why walnut taco meat?
A walnut meat recipe is a perfect swap for beef, or other meat-based toppings, because instead of all the saturated fat that your taco comes with when it is filled with meat, walnut taco meat has lots of GOOD fats, like omega-3 fatty acids, that are good for your brain health, and your cardiovascular health as well!
The texture of ground walnuts is also very similar to the texture of minced meat. Especially when mixed with tamari and spices, to create a moist, crumbly kind of taco meat, that is both delicious and satisfying.
It is definitely a win-win-win. It tastes great, it is good for your health, and no one had to die for it!
Ingredients in this vegan taco meat recipe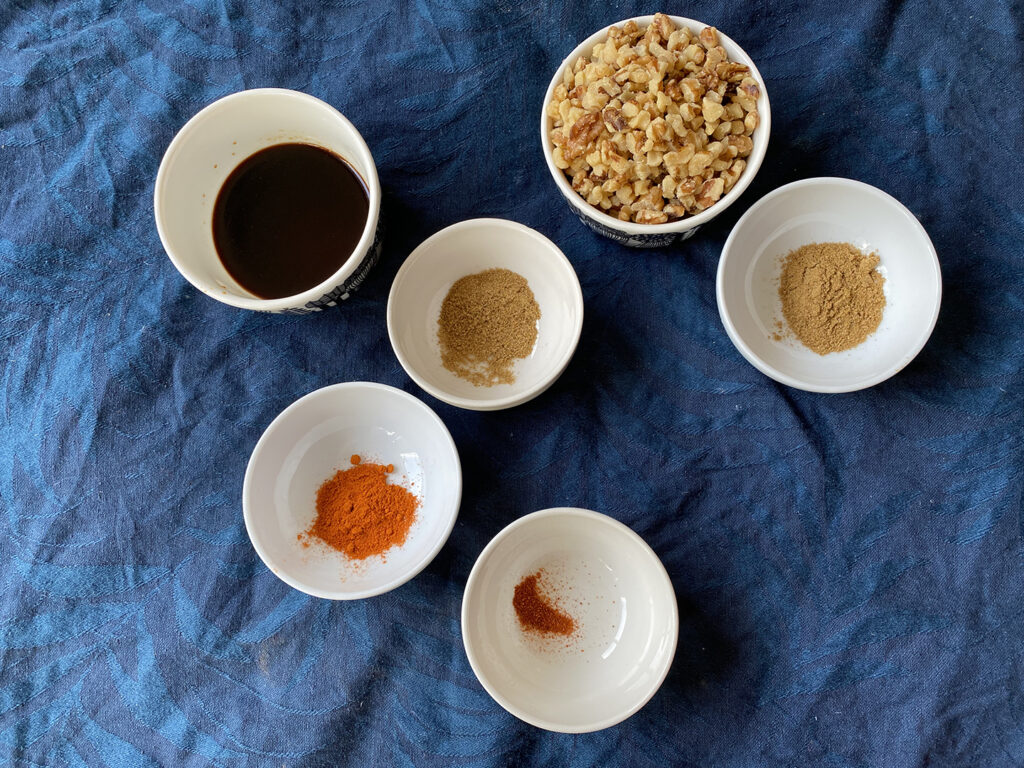 Another bonus of this recipe is that it is super easy to make. It probably takes all of five minutes to put together, and you will have a batch of walnut taco meat to eat delicious tacos for days (recommended).
The ingredients include:
Walnuts – these should be raw to preserve the good vitamins and minerals and fats in the nuts
Ground cumin – this gives the meat a delicious flavour and adds to the texture too
Ground coriander – a delicious spice that adds a tasty element
Tamari – it is best to use low-salt soy sauce or tamari as this is a powerful ingredient in this recipe and if it is too salty you will find it overpowers the taste of the walnut meat
Chilli powder – not too much! But it gives the walnut taco meat the kind of kick that is so satisfying in normal tacos
Cayenne pepper – just a little, but use more if you want more of a kick
How to make walnut taco meat?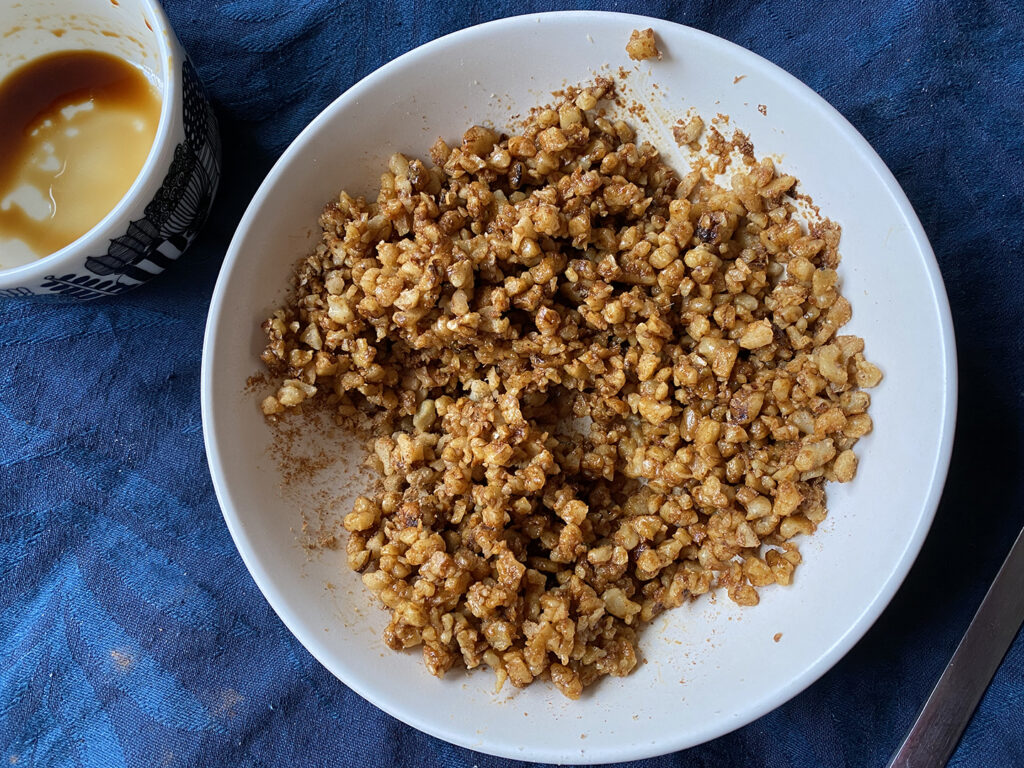 Then it is simply a case of grinding the walnuts, adding the spices and then finally adding the tamari to the mixture.
How to serve walnut taco meat?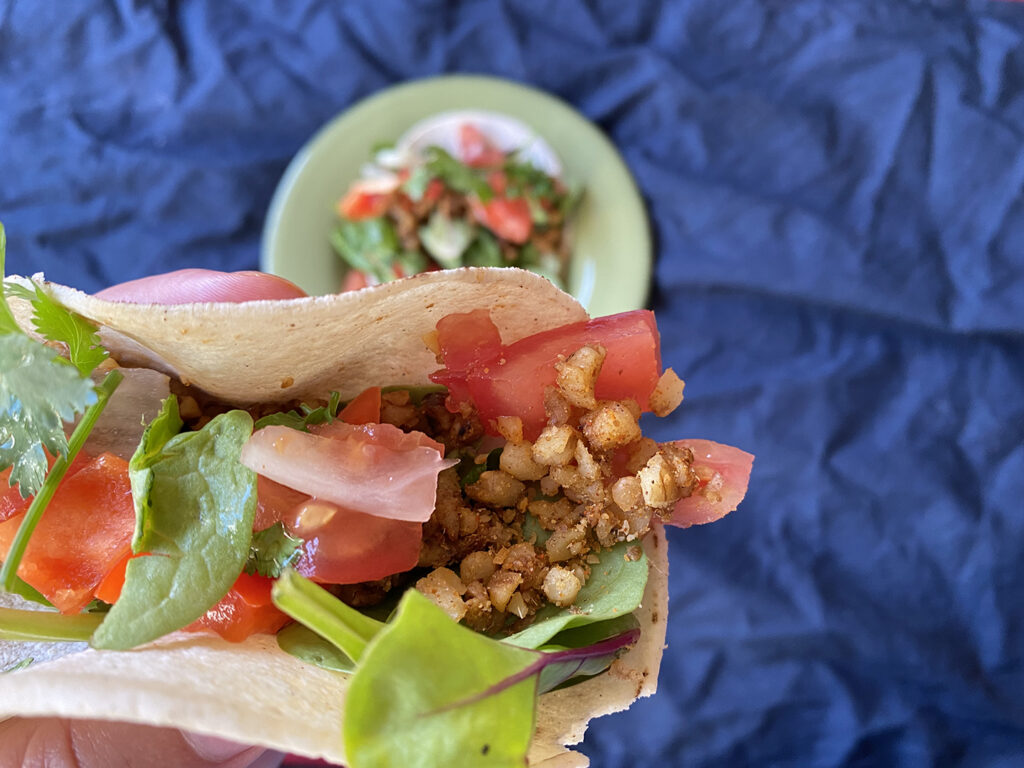 I love walnut tacos best with chopped leaves, pico de gallo, coriander avocado dressing on either soft and small corn tortillas or hard corn taco shells.
The pico de gallo is as simple as chopping up a couple of tomatoes, half a capsicum, half a chopped onion, 1/4 cup of coriander, adding a couple of tablespoons of lime or lemon juice, and tossing until mixed.
For the avocado dressing, blend an avocado, 1/2 cup of coconut milk, 1/4 cup of coriander, a few tablespoons of lime or lemon juice, a clove of minced garlic, 1/4 of a jalapeno chilli together in a blender until combined.
Storage and leftovers
This walnut taco meat will keep in your fridge for up to 5 days. The recipe makes about 6 servings though, so you can either halve the recipe or freeze anything you don't plan on eating in the next five days. It will keep in the freezer for up to three months.
Simplicity is key
The elegance of this recipe is in its simplicity. You don't have to fuss with lots of ingredients. You can have your tacos on the table in ten minutes, and they really are delicious!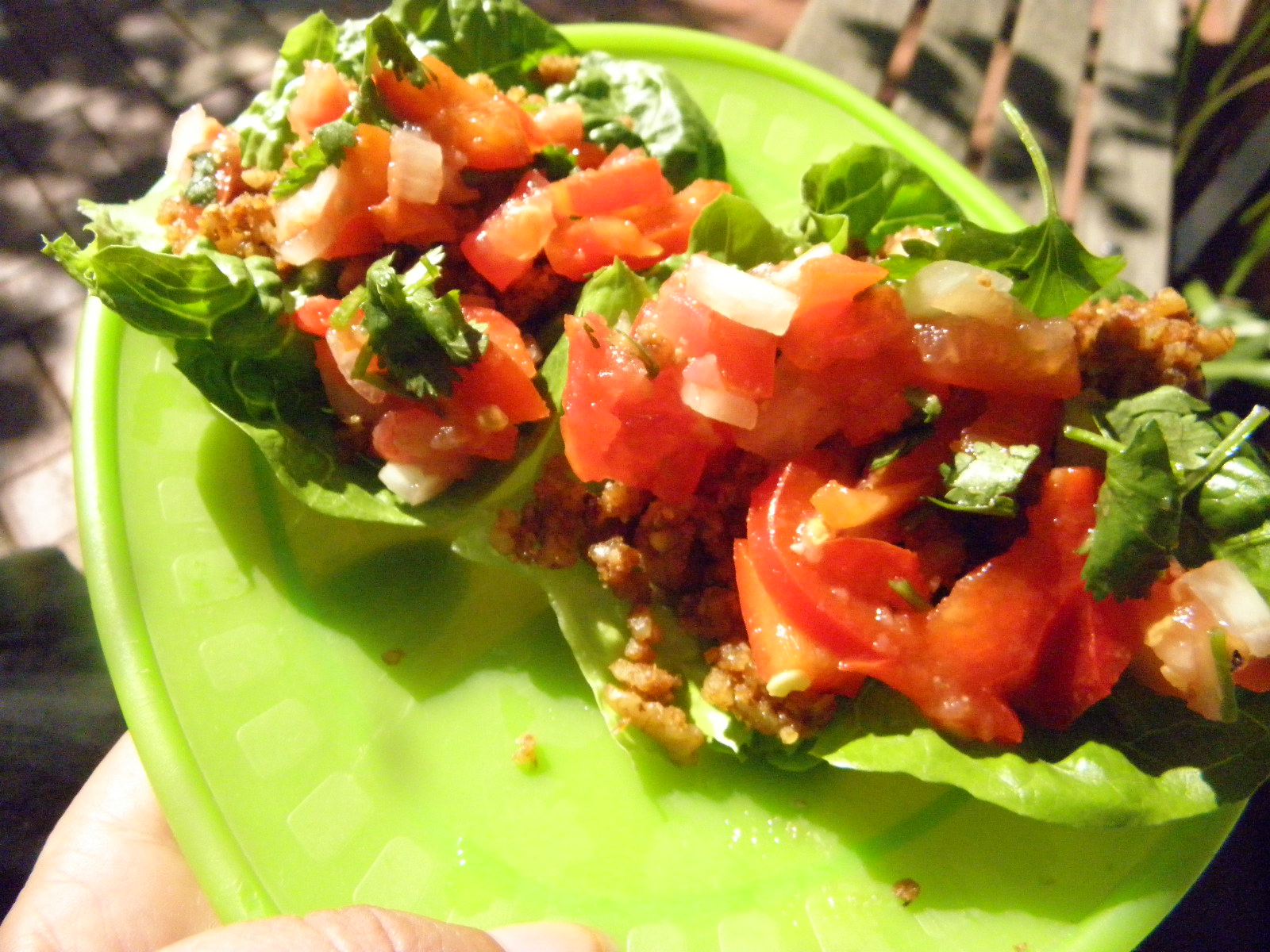 Walnut taco meat for delicious summer tacos
When you are looking for a quick and easy dinner, grab these ingredients for walnut meat tacos and have dinner on the talbe in ten minutes. A delicious blend of nuts, spices and tamari, makes tacos really pop!
Ingredients
For the walnut taco meat
2

cups

walnuts

1

tbsp

ground cumin

1 /2

tbsp

ground coriander

1

tsp

chilli powder

1

pinch

cayenne pepper

2

tbsp

tamari or salt reduced soy sauce
For the pico de gallo
2

medium

tomatoes

chopped

1/2

medium

white or red onion

chopped

1/2

large

capsicum (pepper)

chopped

1/4

cup

coriander leaves (fresh cilantro)

chopped

4

tbsp

lime juice

or juice of 2 limes
For the creamy avocado dressing
1

avocado

1/2

cup

coconut milk

1/2

cup

coriander leaves (fresh cilantro)

4

tbsp

lime juice

or juice of 2 limes

1/4

jalapeno chilli

1

clove

garlic

minced
Extra ingredients
1

cup

cos lettuce or leafy greens

12-18

corn tortillas or hard taco shells
Instructions
For the walnut taco meat
Add the walnuts to a food processor and process until crumbled and the texture of mince meat

Add the cumin, coriander, chilli powder and cayenne and mix together

Add the tamari and stir through

Meanwhile place the taco shells in the oven at 140 degrees to heat for 5 - 10 minutes
For the pico de gallo
Chop all the ingredients except the limes and add to a medium mixing bowl

Stir through the lime juice and toss to combine
For the avocado dressing
Add all the ingredients to a blender and blend until smooth
To assemble the tacos
Take a heated tortilla or taco shell and add chopped lettuce to the base, followed by 2 tbsp of walnut taco meat, 2 tbsp of pico de gallo and 1 tbsp of avocado dressing
Nutrition information
Did you make this recipe? Leave a comment below and share a picture on Instagram with the hashtag #myhealthzest