08 Apr

Low carb or keto diet for better long term health outcomes

The bottom line for me today is that a healthy diet is ALWAYS composed of lots of vegetables. I have started eating a low carbohydrate diet, as well as avoiding both gluten and dairy (which can both cause inflammation), and fasting for 12 + hours between dinner and breakfast.

The initial reason that I started a keto diet (low carb), is because I became convinced that eating carbohydrates can create spikes in both blood sugar and insulin. This is not good for either cardiovascular health, brain health or the development of diabetes.

False weight loss?
However, as I am sure that I have mentioned on this blog, certain lecturers in my Human Nutrition course at Deakin University were adamant that low carb diets, simply result in the loss of water (and presumably stored glycogen), and when you start to eat normally again, you put all the weight back on again – which makes sense, if you are replenishing your store of glycogen.
I started investigating this debate last weekend and in my research came across a couple of books written by the CSIRO celebrating a low carb diet for a variety of health outcomes including weight loss.

Better health outcomes, not just weight loss
It is actually not my weight, which is my biggest concern at the moment. I love my body. It is gorgeous. But I do want to be healthy. This is important to me. I want to protect myself from some of the diseases such as diabetes, heart disease, Alzheimers disease, osteoporosis that can happen later in life. These are the reasons that I am transitioning to a different way of eating and moving my body.
From everything that I have read recently, low carb diets can actually improve long term health outcomes. The difference between those early Atkins, Dukkan or Paleo diets, for example is that the focus was on eating a lot of protein. Keto has more emphasis on eating more low carb vegetables, and healthy fats, and the CSIRO low carb diet is definitely centred around large amounts of vegetables, moderate amounts of protein and healthy fats, and reduced carbohydrates.

Organising your daily diet. What to eat?
The main difference between the CSIRO diet and the other ketoflex diet that had started my journey into low carb, is that while the ketoflex diet suggests a mainly vegetarian diet, with moderate amounts of meat and lots of good fats, it does not make it clear how to actually achieve this.
I did do a lot of research into vegetarian keto recipes and found some good ones! However, the CSIRO diet and I expect other peak nutrition bodies in Australia, focus on units of each type of food. So everyone should eat at least 5 units of low carb vegetables, and 10 units of healthy fats, as well as about 2.5 – 3.5 units of protein and 1.5 units of carbs (in the early stages of the program), this increases from weeks 7 – 12 of the diet. These amounts differ depending on your energy requirements.
It really helps as I am preparing food to assess how many units of each macronutrient is in my meal. It is an effective way of making better choices. Today my lunch was a slice of mountain bread, spread with a tablespoon of hummus, lots of leaves, 1/2 cup of grated carrot and 1/4 of an avocado. This would have been 0.5 – 1 unit of carbs, 1 unit of vegetables, 1 unit of protein and 2 units of good fat.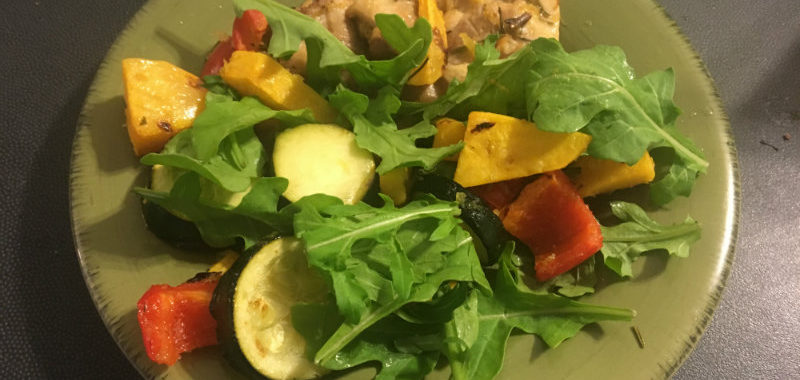 New recipes to try!
The CSIRO recipes are a bit involved from what I have seen so far. I do like a quick and easy, but tasty and nutritious recipe (think 12wbt), but it is a great foundation for better eating and I am excited about this new lifestyle.
You can find the CSIRO low carb book here, and they have also written a second book, which I am yet to read.
Bon appetit!