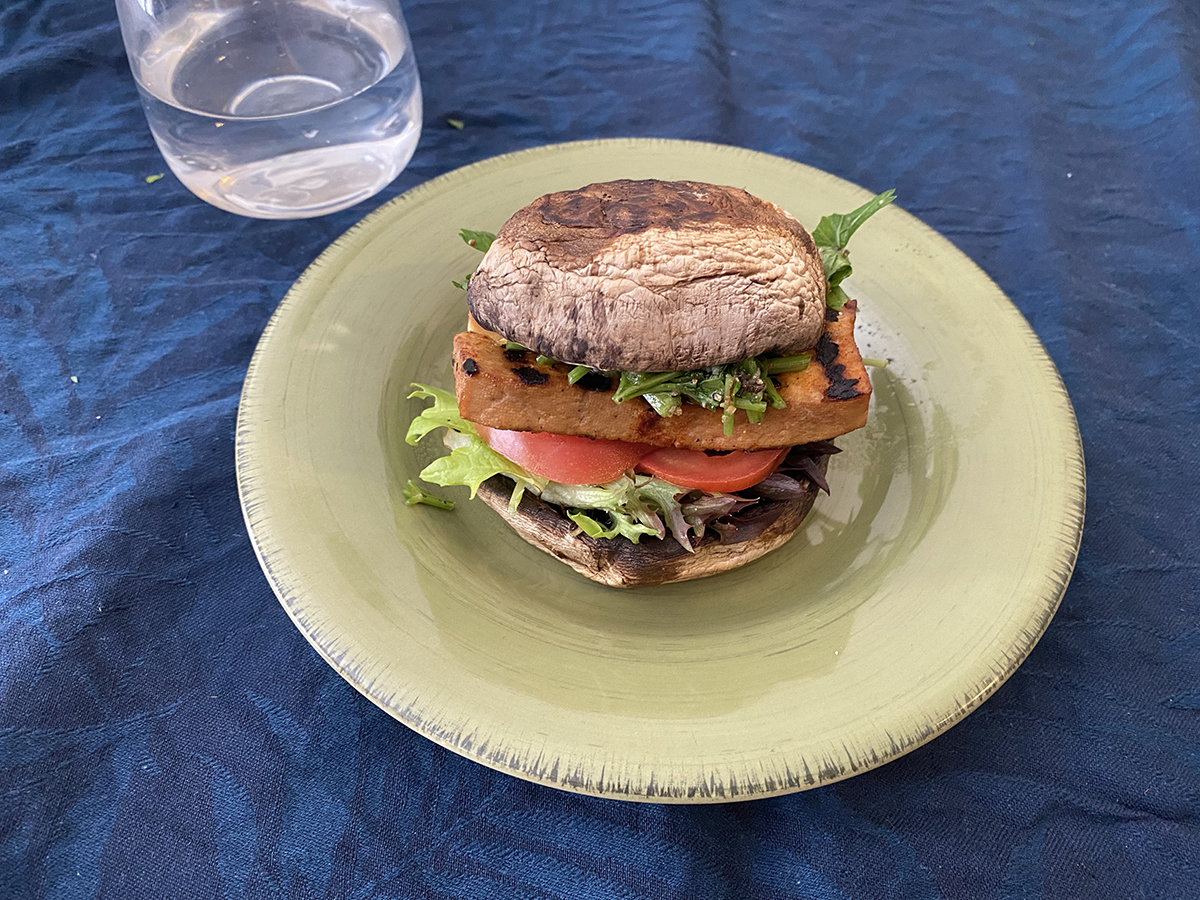 11 Oct

Mushroom and Spiced Tofu Low Carb Burger w Chimichurri

 

If you are looking for a low carb vegan lunch recipe, you are going to love this low carb burger with mushroom, spiced tofu and chimichurri. It is a taste sensation!

There seem to be two main camps in the nutrition field – those who say that eating vegan and vegetarian food is the best for long term health and those who swear by low carb diets such as keto for weight loss and improved blood work. So, what do you do if you subscribe to both camps?

If you are a vegan who wants to eat low carb food, you will find it challenging to find HEALTHY recipes that are not laden with fat, saturated and otherwise. It probably won't have such a great impact on your good and bad cholesterol levels.

With this Mushroom and Spiced Tofu Low Carb 'Burger' with Chimichurri, you can cover all bases. It is a lunch burger, that is vegan AND low carb, and it only has 27 grams of fat.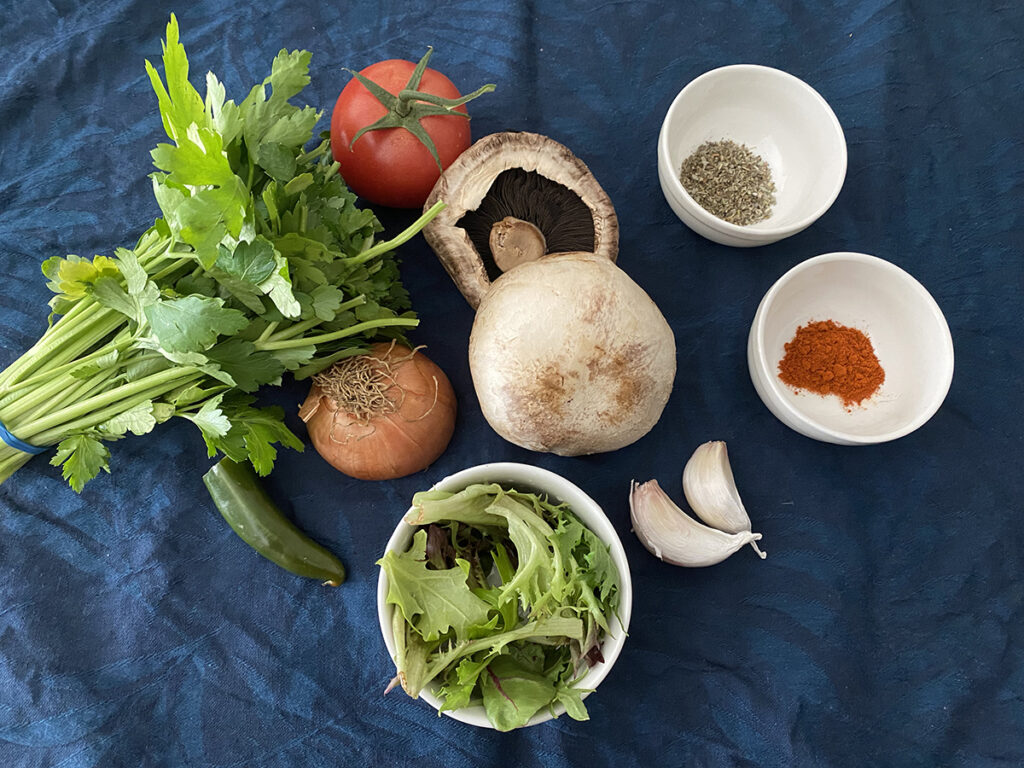 Ingredients in this low carb burger
This recipe is really quick to throw together. We would recommend marinating the tofu overnight for extra flavour, and the chimichurri can be marinated too to really pack that flavour punch. If you forget, or you are pushed for time, simply marinate both the tofu and chimichurri for 15 minutes before cooking.
Portobello mushrooms (for burger rolls)
Tofu and tofu marinade (tamari, honey or maple syrup, water or vegetable broth, apple cider vinegar, garlic powder, cayenne powder
Paprika to spice the tofu
Fresh rocket (arugula), or you could use mixed mesculin leaves
Fresh tomato
Chimichurri ingredients – parsley, chilli, or dried chilli flakes, olive oil, red wine vinegar, garlic, dried oregano, and optionally salt and pepper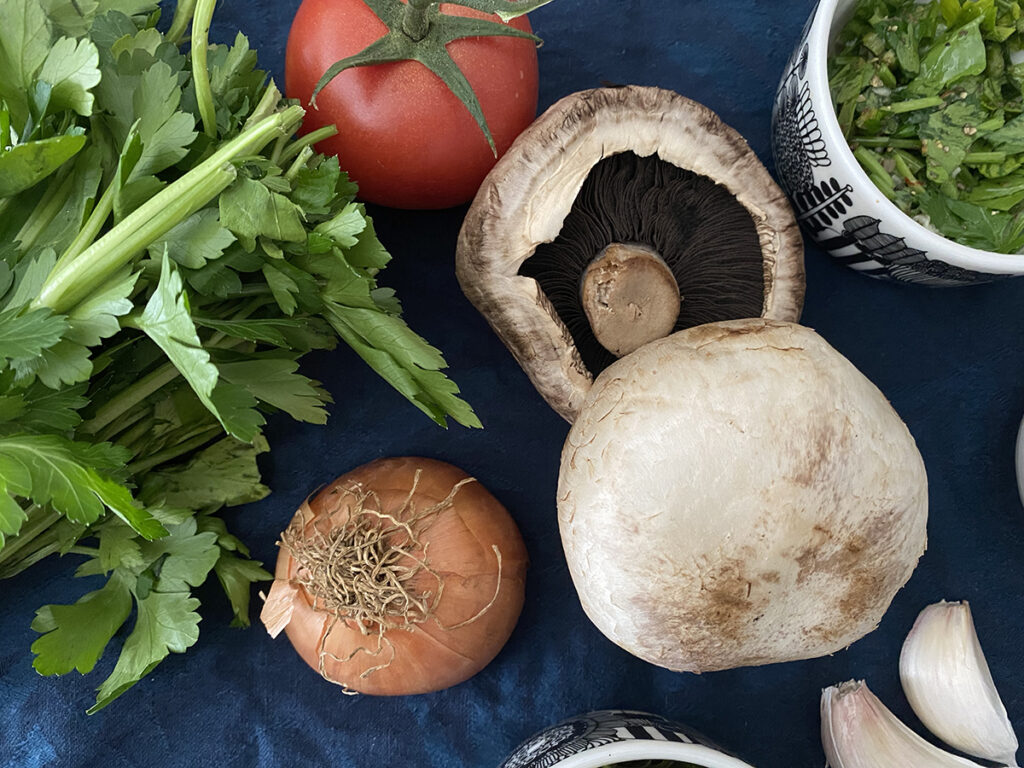 Adaptations for a low carb burger
The main way that carbs are swapped out of this burger is through using a field or portobello mushroom cap as both the top and bottom of the burger, getting rid of the carb-laden bread. The other substitution is to swap out a grilled chicken fillet for the grilled marinated tofu. That way you are still getting a good serving of protein, but you are not eating meat.
You could experiment with other fillings for your burger – a lentil and walnut burger, for example, or baked falafels. I also imagine you could also use a basil or rocket pesto instead of the chimichurri if that is what you have on hand.
A note on serving size
This low carb burger recipe serves two, and if you are planning to make it for more people or across two days you will need to double (or quadruple) the ingredients accordingly.
Leftover storage
The tofu and chimichurri will not suffer from marinating for longer in the fridge. You might find like I did that the flavours are actually greatly enhanced by longer times in the marinade. The raw mushrooms keep well in the fridge, as does the lettuce (in an airtight bag). I would recommend opening a new tomato each time you serve this recipe, as the tomato doesn't last very well in the fridge. How amazing is it to have tomatoes in season by the way! I haven't eaten a tomato since autumn, and it is so delicious to bite into the flavoursome, juicy, ripe tomato, finally!
You will want to cook the mushrooms and tofu fresh for each serving. It only takes about ten minutes to do, so it really is not such a lot of work. Put all the other ingredients together in a minute or so, and voila, a tasty low carb burger.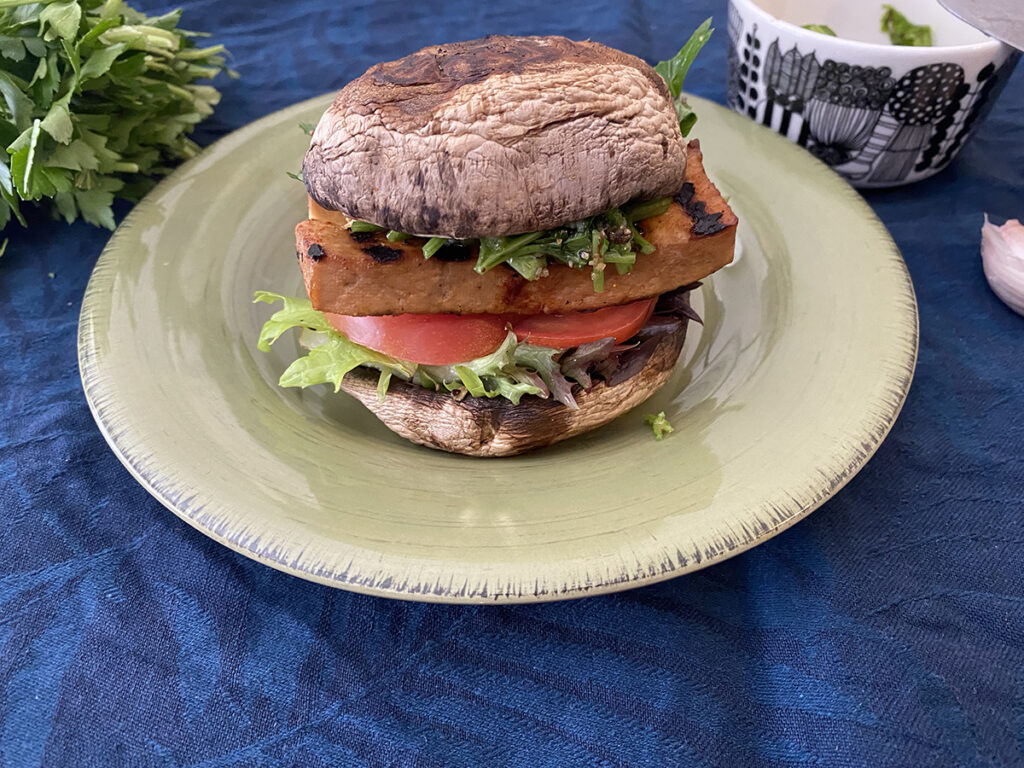 Mushroom and Spiced Tofu Low Carb 'Burger' with Chimichurri
Prep time:
Cook time:
Total time:
For a burger that is low on calories and carbs, the flavours literally explode in your mouth. It makes the perfect spring or summer lunch burger when tomatoes are in season. Although there is a lot of ingredients, a little prep makes it all come together oh, so easily.
Ingredients
For the chimichurri
2 tbsp olive oil
1 tablespoons red wine vinegar
¼ cup finely chopped parsley
1 clove garlic , finely chopped or minced
1 red chili, deseeded and finely chopped (about 1 tablespoon finely chopped chili)
½ teaspoon dried oregano
½ level teaspoon coarse salt
pepper , to taste (about ½ teaspoon)
For the tofu marinade
200 g firm tofu
¼ cup water (60 ml)
2 tbsp soy sauce or tamari
1 tbsp apple cider vinegar
1 tbsp maple syrup (or honey)
1 tsp garlic powder
⅛ tsp cayenne powder
For the burgers
4 large portobello mushrooms or field mushrooms
olive oil spray for cooking
1 tsp sweet paprika (or any kind of paprika will do)
40 g rocket leaves or mesculin mix
2 tomatoes
Instructions
First make the tofu marinade by mixing all the ingredients except for the tofu in a shallow dish that is big enough to fit your slices of tofu.
Cut the tofu into 4 slices, add to the marinade, cover, and marinate for at least 15 minutes (I marinated mine over a couple of nights turning occasionally and it was delicious).
Make the chimichurri, by mixing all the ingredients in the bowl and letting marinate for at least 15 minutes (ideally more than two hours).
Preheat a bbq grill, chargrill pan or heavy based skillet over medium heat. Cut the stems off the mushrooms, then spray the mushrooms with olive oil and cook cup side down for 5 minutes on each side.
Sprinkle the tofu with paprika, spray with oil and cook on the same pan or grill for 3 minutes on each side.
Meanwhile prepare your other burger ingredients - slice the tomato.
To assemble the burger put one half of the mushroom on the plate and top with lettuce or rocket, tomato slices, the tofu and finally the chimichurri. Put the other mushroom on top of the burger and serve immediately.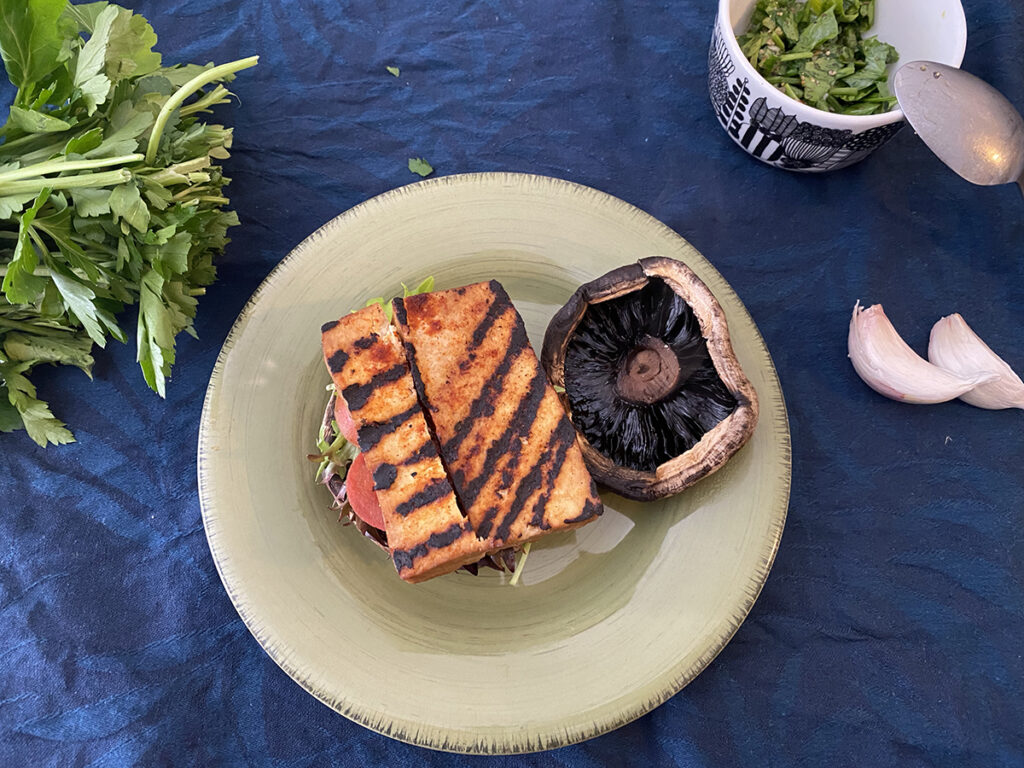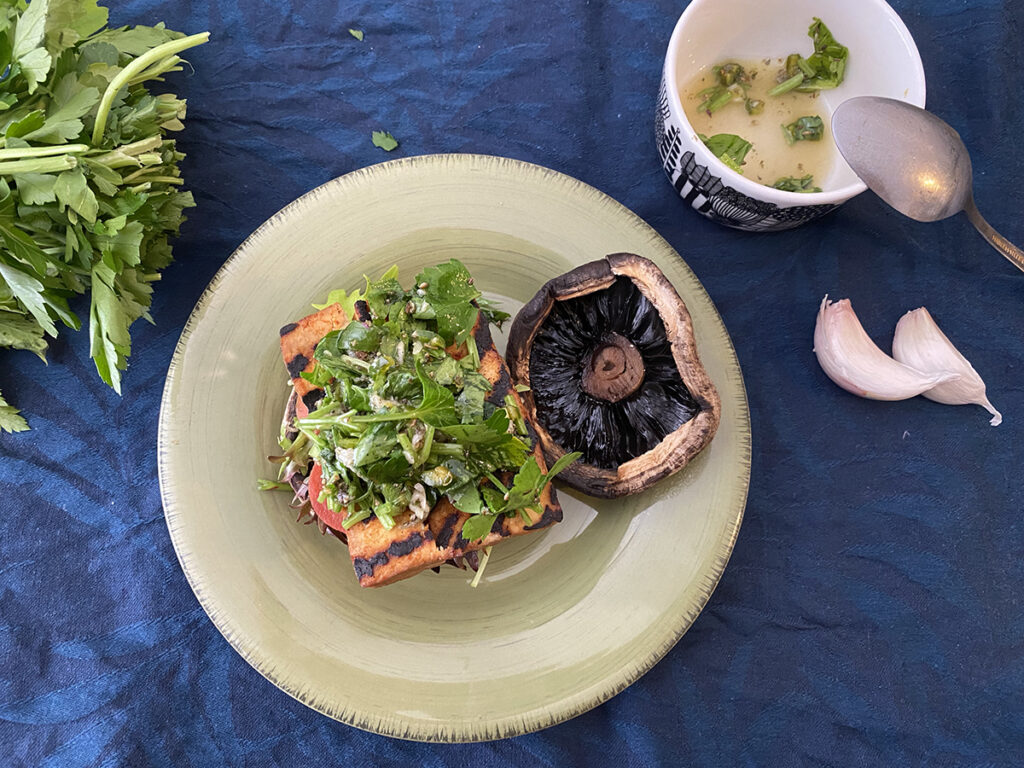 Storage for this mushroom low carb burger
If you wish to split the serves of this low carb burger, the tofu and chimichurri can continue marinating until you make the second serve. For the rest of the ingredients, it is best to prepare the burger fresh and eat it while it is hot.
Nutritional information
References
Loosely adapted from a recipe in the CSIRO – Low Carb Diet book
Did you make this recipe? Leave a comment below and share a picture on Instagram with the hashtag #myhealthzest