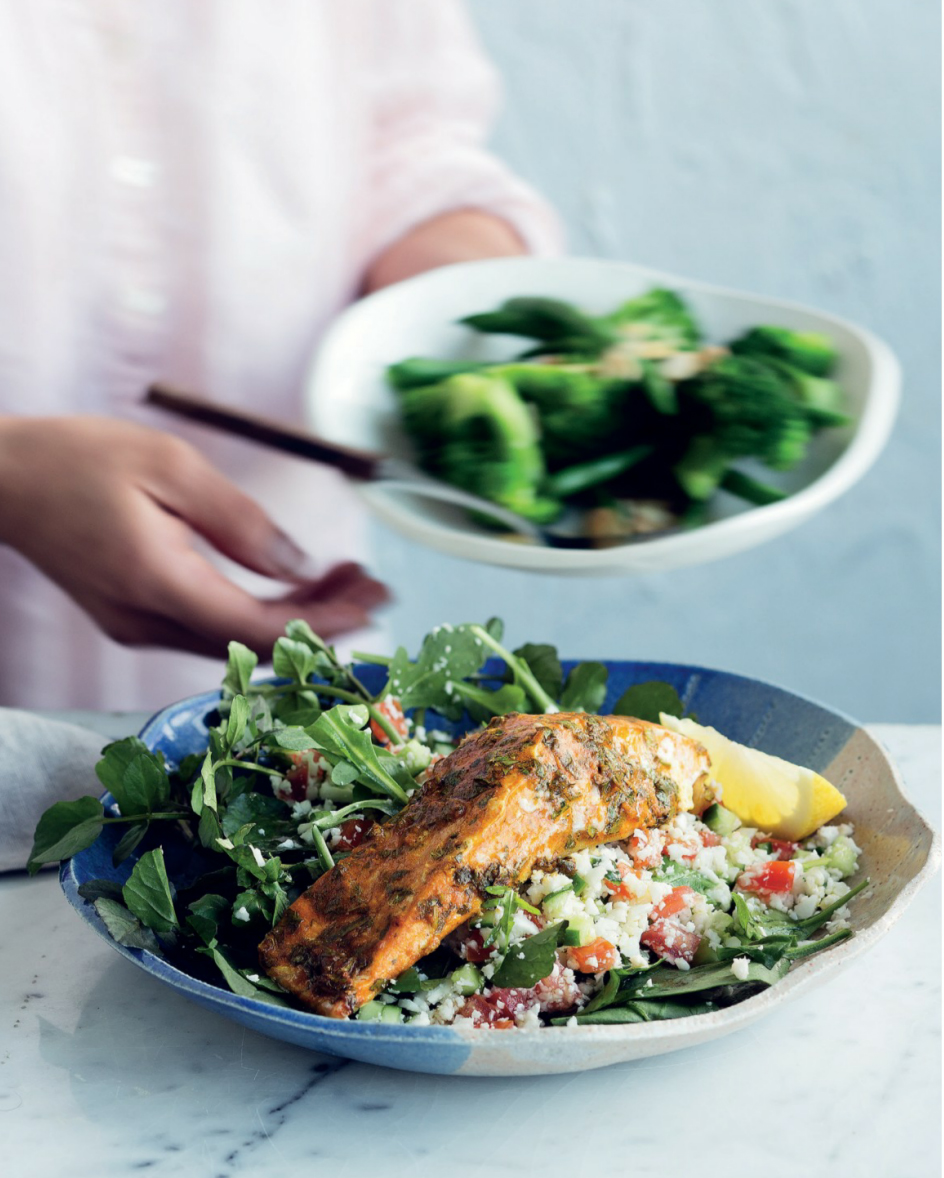 27 Jul

Spicy baked salmon recipe with cauliflower couscous

The original recipe of the spicy baked salmon recipe with cauliflower couscous is best eaten in autumn when all the ingredients are in season. The original recipe is confusingly a mix of summer and winter. Or more aptly, an autumn recipe. The couscous was created from a mix of cauliflower (a winter or autumn vegetable), watercress, tomatoes and cucumber (summer or autumn). It was quite challenging to adapt this recipe for a winter food menu. I decided to leave in the tomatoes because I have seen some seasonal tomatoes, and here in Australia is a great truss tomato greenhouse in South Australia, which is very sustainable and produces tomatoes all year round.

This baked salmon recipe is very tasty. The middle eastern spices are accompanied beautifully with the tangy couscous salad. Cauliflower couscous is a great substitute in the couscous recipe because it is much lower in carbohydrate.


Prep time:

Cook time:

Total time:

The fragrant spices and herbs make for a delicious salmon fillet. The cauliflower couscous is the perfect tangy accompaniment to the middle eastern flavours.

Ingredients
2 tsp olive oil
2 tbsp lemon juice
2 tbsp flat leaf parsley - roughly chopped
2 tbsp coriander leaves - roughly chopped
1 tsp ground cumin
1 tsp ground coriander
1 tsp ground tumeric
1 clove garlic - finely chopped
2 x 150 g sustainably sourced wild salmon fillets
150 g broccoli - cut into small florets
50 g green beans - trimmed
For cauliflower couscous
250 g cauliflower (1/4 cauliflower) - cut into small florets
1 tbsp extra virgin olive oil
1 cup of rocket leaves - roughly chopped
1 cup of baby spinach leaves - chopped
1 cup of watercress sprigs (in autumn only)
¼ bunch of radishes - cut into small dice (or 1 small lebanese cucumber in autumn - cut into 5 mm dice)
1 tomato - cut into small dice
1 tbsp lemon juice
2 lemon wedges to serve
The fish is marinated in the spices and herbs and then baked. It is served alongside the cauliflower couscous salad and the steamed seasonal vegetables. If making this
recipe in summer
, you could buy frozen cauliflower florets from the supermarket to keep it seasonal. It is unlike me to say maybe you should just buy cauliflower out of season, but this recipe is a tricky one to eat outside of autumn!
It is absolutely delicious though! So many fragrant and delicious flavours.
Find the full recipe in the CSIRO Low Carb Diet book, which you can get here ->The CSIRO Low-Carb Diet
Enjoy!
To see other seasonal recipes, please visit our seasonal meal plans page.