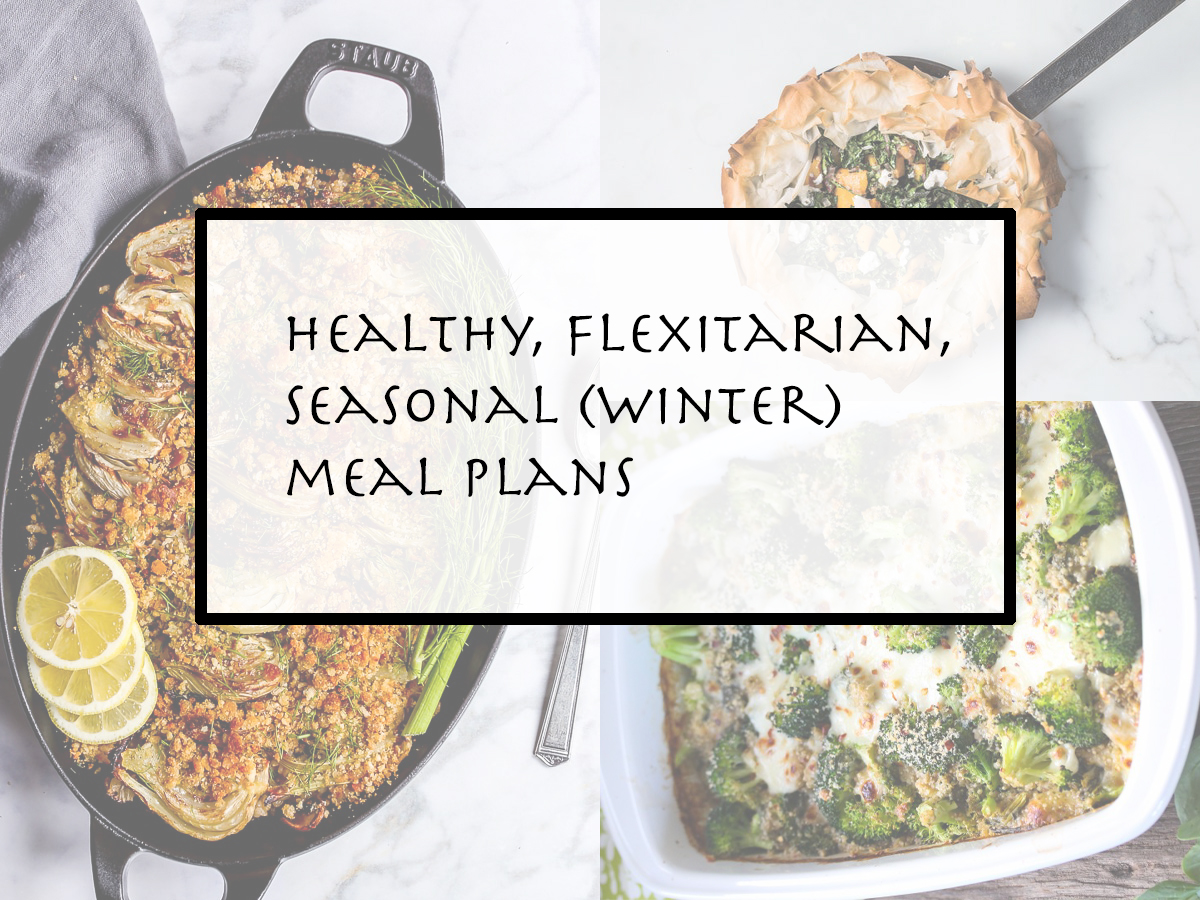 14 Jun

Welcome winter! Week 25 – comforting, easy, one dish bake recipes

So winter has arrived, and I have been a bit lax with the meal plans on Vital Sustenance lately! I have still been creating them, I just haven't been updating the website!

This week is oh so comforting and delicious. The meals are super easy bake varieties, so you can spend less time preparing your dinner and more time having fun!
Roasted fennel, mushroom, and white bean, brown rice gratin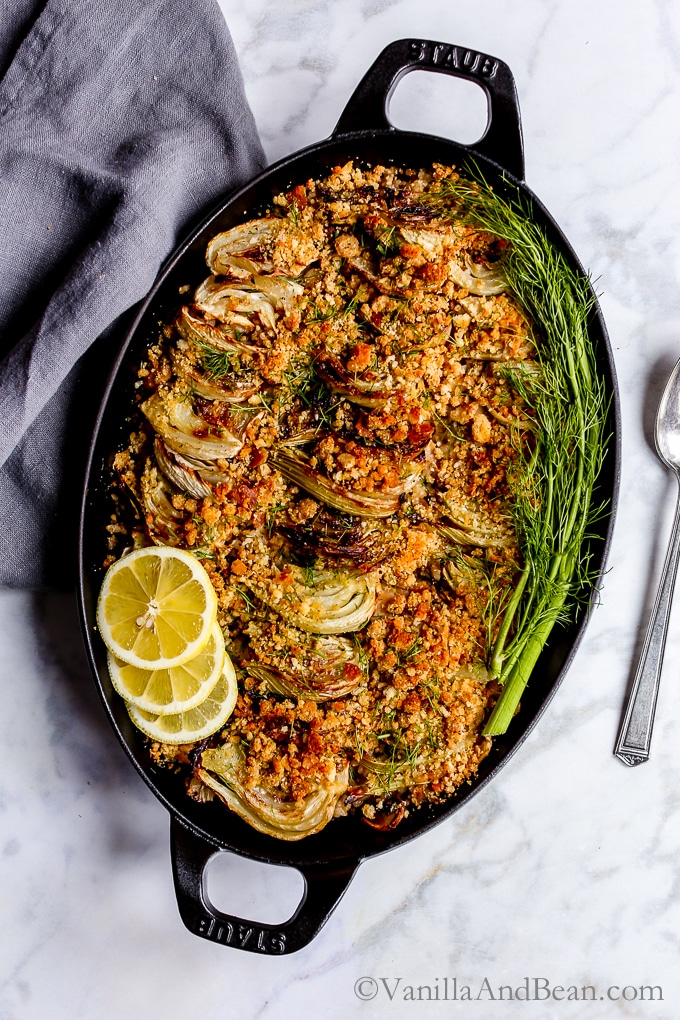 This recipe was definitely the highlight of my week. It was oh so, easy to put together, and it really was absolutely delicious. A squeeze of lemon at the table brought out the beautiful winter flavours in this special, but easy dish.
I used the full measures on the ingredients list, except I only used one bulb of fennel, and 1/2 cup of rice (uncooked). The complete mixture filled one 25 cm (9.5 inch) x 20 cm (7.5 inch) baking dish and was filling enough to make two servings.
You might find that when you start eating more vegetarian food, your body is hungrier than usual. That is perfectly normal. It just means you might need to eat a little more!
I also didn't use all the olive oil, so this cut down a bit on calories. I felt like baking the fennel tops was too fussy, so I just trimmed and chopped the herbaceous leaves and discarded the tops.
Shopping list (for two servings – double for four servings)
Grocery items
15 Oz (425g) white beans cannellini drained and rinsed
1/3 C (4g) breadcrumbs (gluten-free if needed)
Deli items
1 1/2 C (130g) Gruyere, grated
2 tbs fresh grated parmesan cheese
Fruit and veg
1 Large fennel bulb with fronds
12 oz (344g)  button mushrooms, stems removed and sliced
1 C (120g) brown onion, diced
2 lemons one zested and juiced, the other for service
Pantry items (should have on hand)
1 Tbs + 2 tsp organic olive oil
1 C (200g) short grain brown rice
1/3 C (70g) vegetable broth (or white wine)
Fresh ground pepper (you shouldn't use salt in cooking for your heart and blood pressure)
1 tbs dijon mustard
To see how to cook this tasty early winter dish, check it out on the Vanilla and Bean website.
Skillet Filo Pie with Butternut Squash, Kale, and Goat Cheese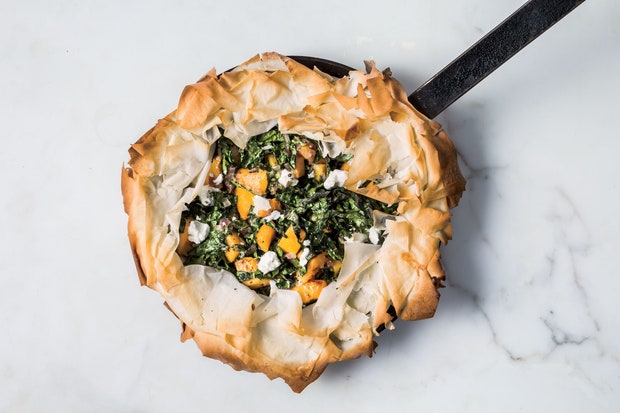 This pie was as delicious as it looks and it was pretty easy to cook. I used the full measure of ingredients except I only used one onion and I only used two tablespoons of olive oil (you could get away with just using one). 

A couple of things to remember about this recipe is that you need to thaw your filo pastry for about 2 hours or more at room temperature before making this meal. So, I would suggest putting a note in your calendar to remind you. It can be easy to forget and then you come to dinner, and think 'drats!'.

Another thing to be aware of is the fact that filo pasty is quite delicate. Although the recipe said that the pie could be made up to 6 hours ahead, I did find that if I left the pie, covered out of the fridge overnight, it was okay to reheat at about 150 degrees C for about 20 minutes, and the filo didn't burn or perish, but the filling was warm and tasty reheated.
If you decide to refrigerate any leftovers, you might have more soggy filo and would also need to heat for longer at the low 150-degree temperature.
 
Shopping list (for two extra-large servings)
Grocery items
2 large eggs, beaten to blend
8 ounces frozen phyllo pastry, thawed (half a 1-pound package)
Deli items
3 ounces Parmesan, grated
4 ounces fresh goat cheese or feta, crumbled
Fruit and veg
1 medium red onions, finely chopped
1/2 small butternut squash (about 1 pound), peeled, cut into 3/4-inch pieces
1 bunch Tuscan kale, ribs and stems removed, thinly sliced crosswise
1 teaspoon finely grated lemon zest
Pantry items (should have on hand)
2 tablespoons olive oil, plus more for brushing
1/2 teaspoon crushed red pepper flakes
Freshly ground pepper (you shouldn't add salt to cooking for your heart and blood pressure)
From the herb garden (or fruit and veg store)
1 1/2 teaspoons chopped thyme
To cook the recipe find the instructions on the Epicurious website here: https://www.epicurious.com/recipes/food/views/skillet-phyllo-pie-with-butternut-squash-kale-and-goat-cheese
Broccoli Quinoa Casserole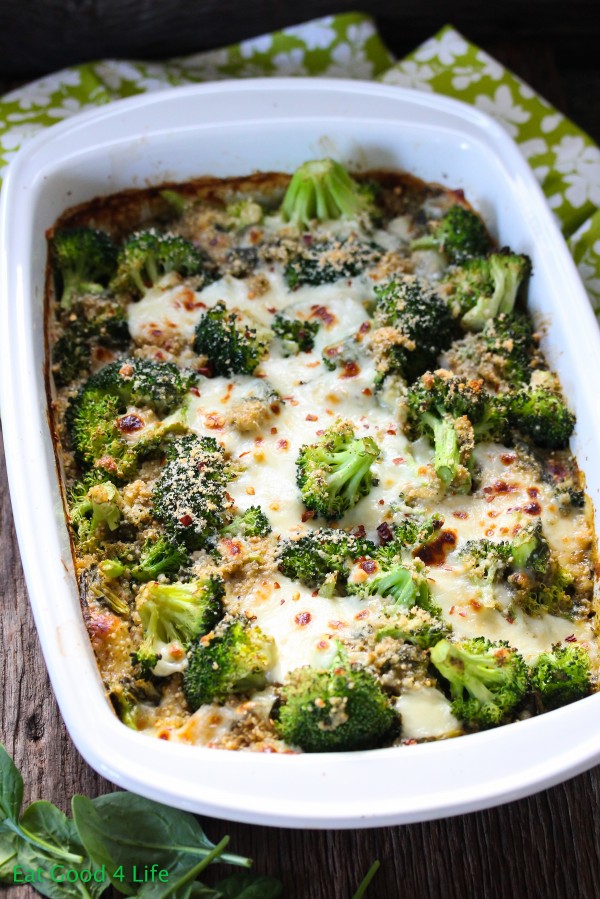 This wasn't my favourite meal of the week, but it sure was easy to put together!
I used half quantities and it made two servings, in the same baking dish as the gratin above.
Shopping list (for two servings – double for four servings)
Deli items
1 tbsp pesto sauce
12 oz (350g) skim mozzarella cheese
1/3 cup parmesan cheese
Fruit and veg
1 cup fresh organic spinach
1 head of fresh broccoli cut into florets
3 scallions, chopped
Pantry items (should be on hand)
1 cup uncooked quinoa
2 1/4 cup low-sodium vegetable stock, or water
2 tsp arrowroot powder, or cornstarch
To get the method of the recipe visit the page on Eat Good 4 Life here.
Chickpea Shawarma Sandwich
This delightful sandwich was oh, so easy to make. I mixed the chickpeas in the spices and only baked a serving as I needed them. I made the hummus sauce as needed. It really was a very easy and delicious lunch.
Get the recipe on the Minimalist Baker website here.