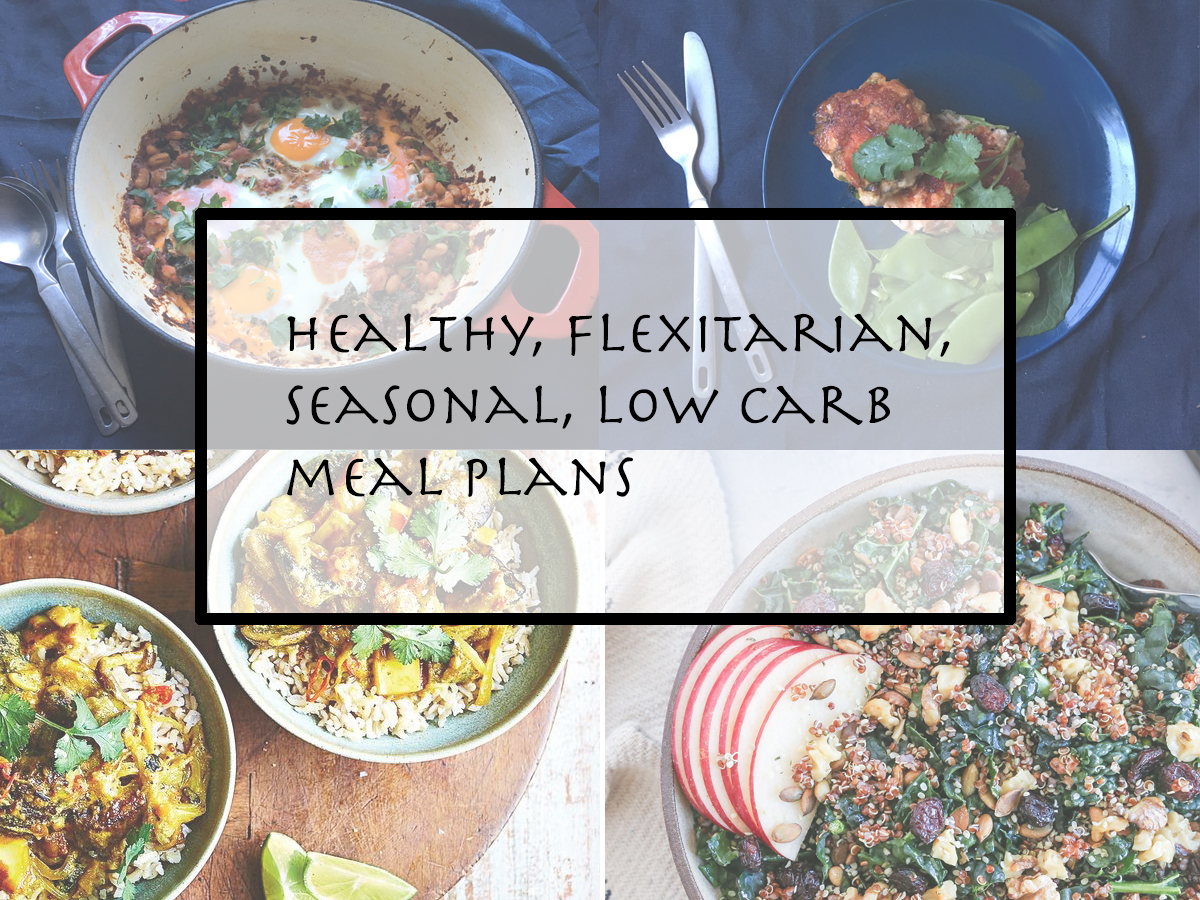 20 Jul

Week 1 – July 22nd, 2019 – winter seasonal flexitarian

Without further ado, let's jump into seasonal meal planning on Vital Sustenance. The idea is to make it easy to find vegetarian recipes that are appropriate for the season. And so, I am hoping to post a weekly plan of meals each week, with links to recipes that are delicious, easy to prepare, (mostly) vegetarian, and use only seasonal ingredients or pantry staples that are aseasonal.

The idea is to provide enough vegetarian lunch and dinner recipes to feed you (or your family) for a week. I also usually include a fish-based recipe. While fish is not considered vegetarian, it is one of the foods that the National Health and Medical Research Council (NHMRC), recommend that we eat twice a week. This is important for our heart health and overall longevity. So, while the emphasis is on vegetarian recipes, a fish recipe is usually included. I also suggest that if you can stomach it, you might like to eat a little meat as a treat. Eating meat occasionally is a good way to achieve balance. The mode of diet is called flexitarian eating. We eat mostly vegetarian but eat some meat occasionally for a treat.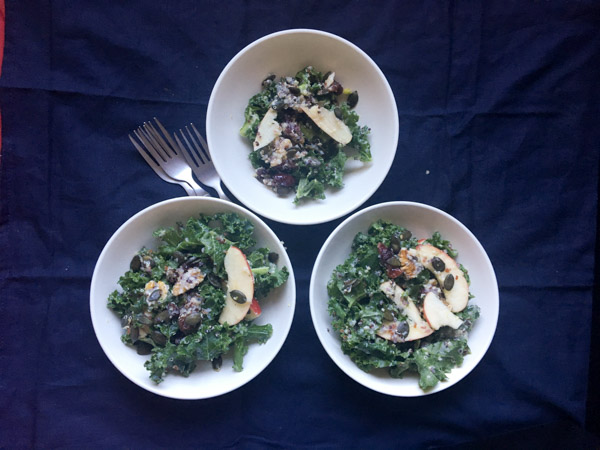 In each meal plan, there are three dinner recipes (including one fish recipe), one to two lunch recipes depending on portions, and one dip or snack recipe. It is expected that each recipe is made with double the ingredients you need for one night so that it will be able to be used for two nights, or two to four lunches. the three dinner recipes will last you for six nights of the week and the lunch recipes will tide you over for 4 days of the week. We expect that you will sometimes buy lunch out and may want to go out for dinner or get takeaway once a week.
Dinner flexitarian recipes
– from Jamie Oliver on Delicious.com
Substitutions and additions
This recipe is never going to fill you up on its own. The chilli jam and the fish cakes are delicious, but in order to make this a meal, it needs a LOT more vegetables on the side. I would suggest adding the following to the ingredient list:
(for 2 serves) – add 1 bunch of broccolini and 100 g of snow peas
+ 50 g of mixed leaves + tsp of lemon juice and 2 tsp of olive oil
After preparing the fish cake mixture, simply steam the broccolini and snow peas for three minutes over simmering water, until just tender. Dress the salad leaves with the lemon juice and olive oil and toss gently. Serve both on the side of the fishcakes.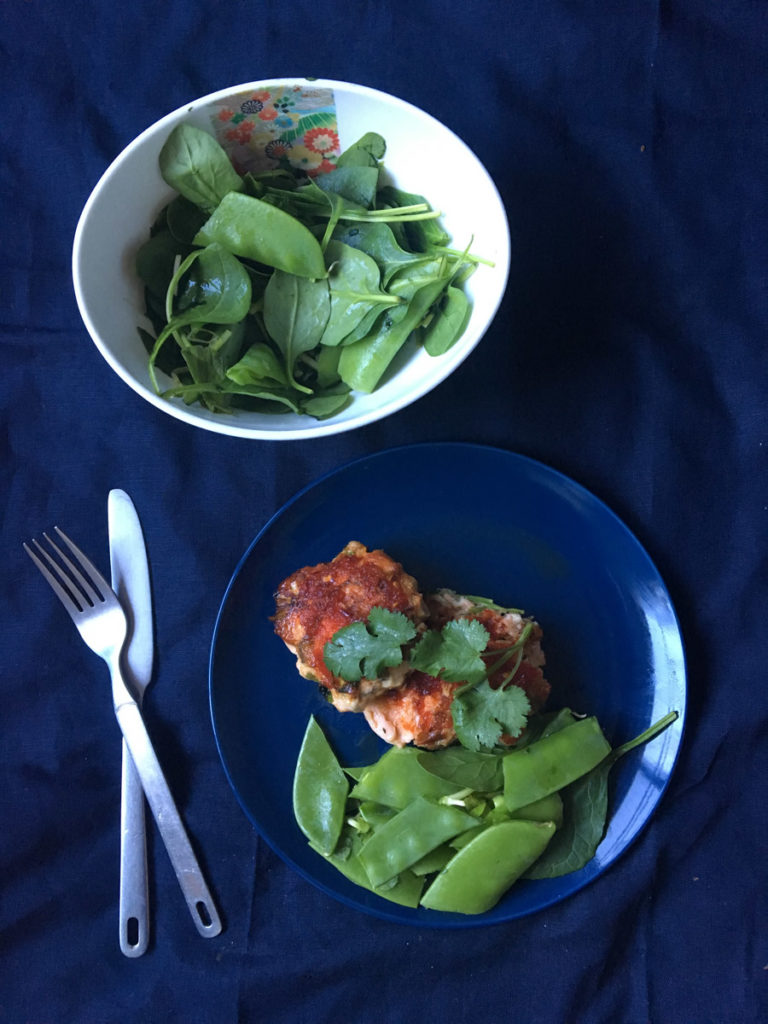 – from Vital Sustenance
Substitutions and additions
If you want to make this meal vegan, you can omit the eggs and the feta and use dollops of cashew cream cheese instead.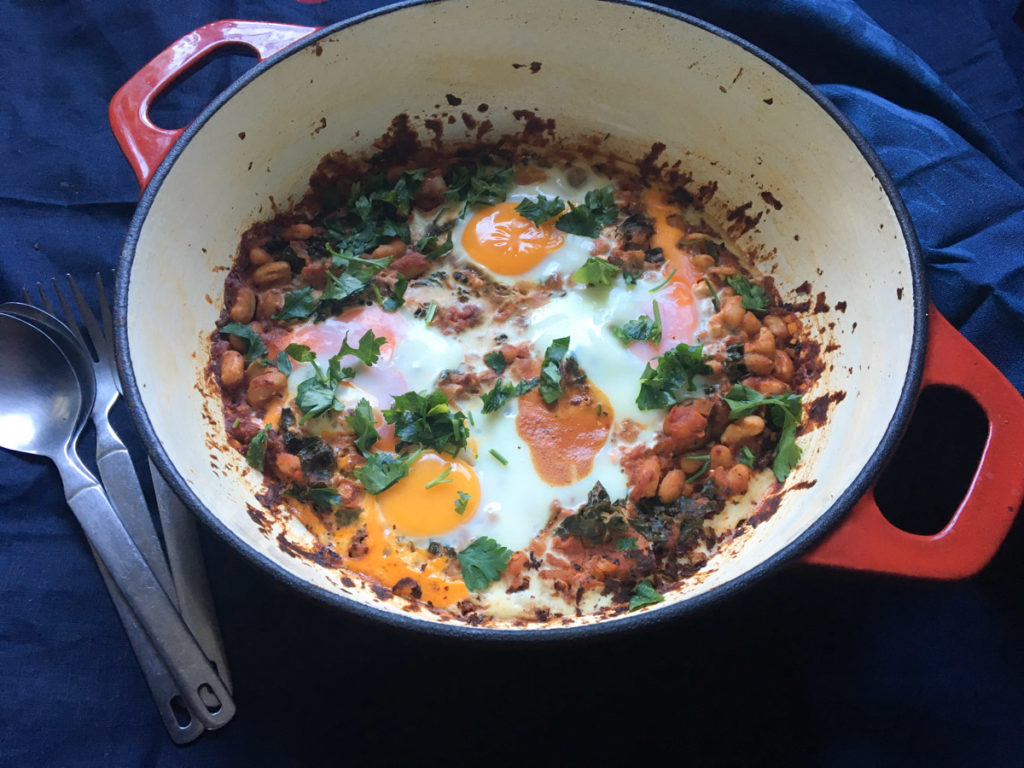 – from delicious.com
Substitutions and additions
To make this recipe low carb, I would suggest substituting the jasmine rice with cauliflower rice. For two serves, simply cut 1/4 head of cauliflower into florets and pulse in a food processor. Then, while the curry is cooking, heat a skillet over medium heat and spray with oil, then cook the cauliflower 'rice' for 6 – 8 minutes, stirring, until heated through. Serve alongside the mushroom curry.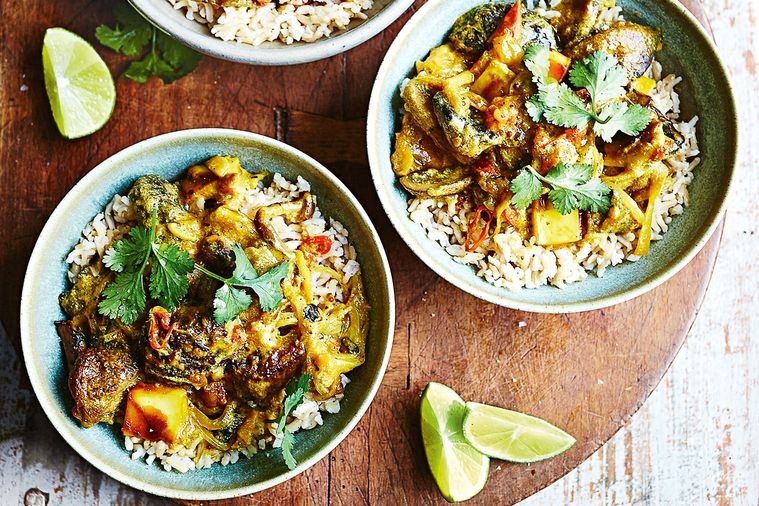 Lunch flexitarian recipes
– from the Roasted Root
Substitutions and additions
This recipe would make a lovely accompaniment to the following soup recipe. Is there anything better than soup and salad for lunch in winter?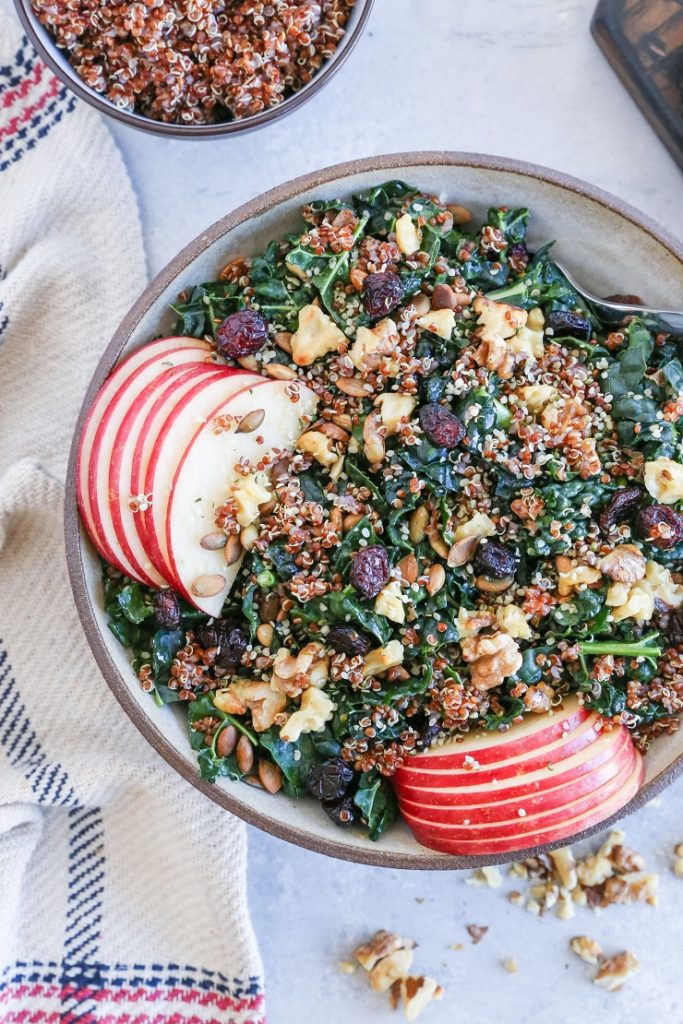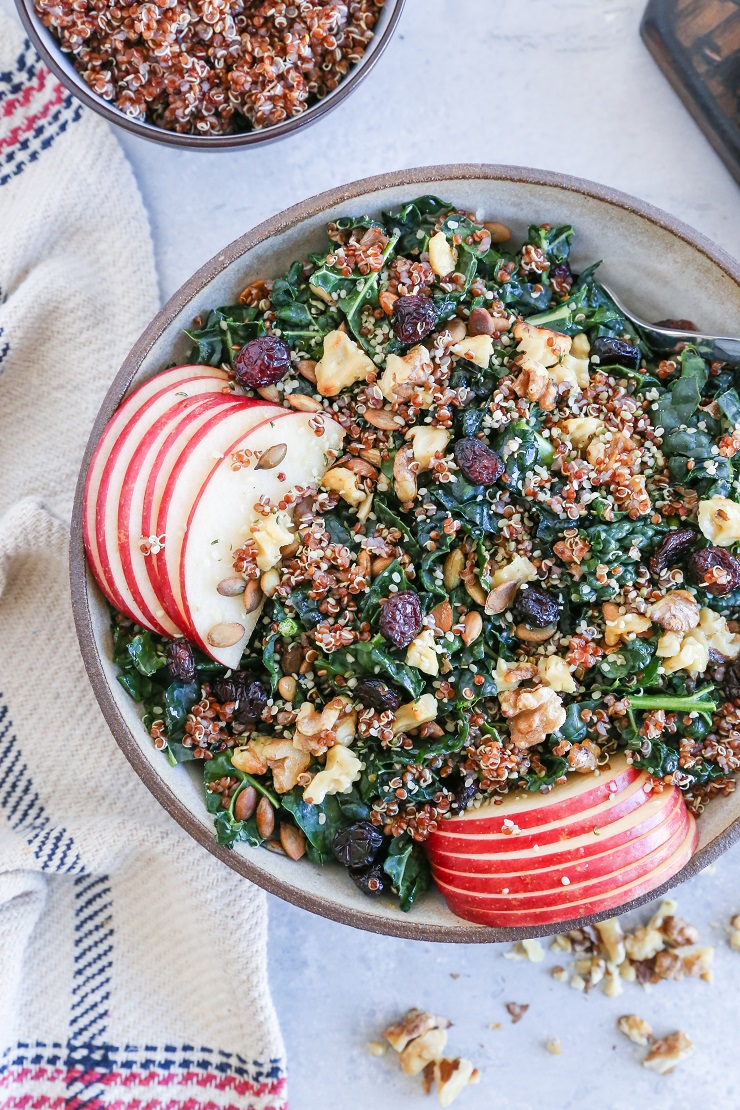 – from Delicious.com
Substitutions and additions
This recipe makes about four seasons, and can be transported to work or school as a portable lunch option. Lovely to eat as an accompaniment with the above salad.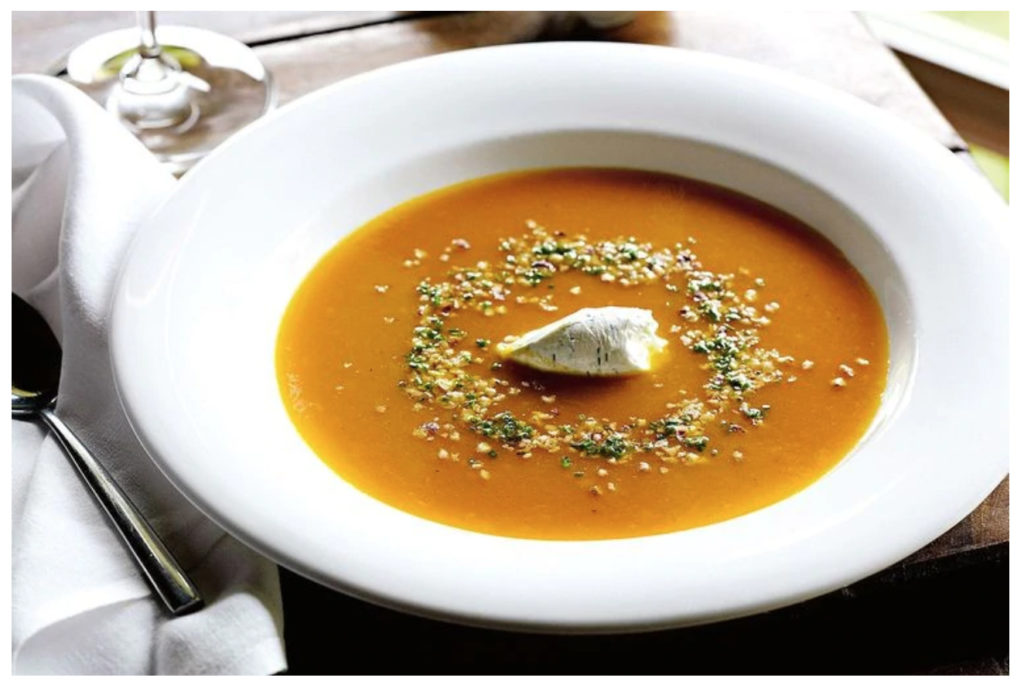 Winter snack and dip recipe
For the first week, I forgot to make a special winter dip. For snacks this week, you can use the leftover of the marinated feta from the shakshuka and spread it on Ryvita biscuits. I would also suggest buying a few handfuls of almonds from your local bulk store, as a mid-afternoon snack.
Shopping lists
Now that you have the first installment of winter recipes, I want to make life really easy by giving you a printable shopping list for your week's recipes. This shopping list can also be viewed on your phone, to make it easy to do your weekly shopping this week!
Enjoy week 1 and let me know what you think of the recipes!