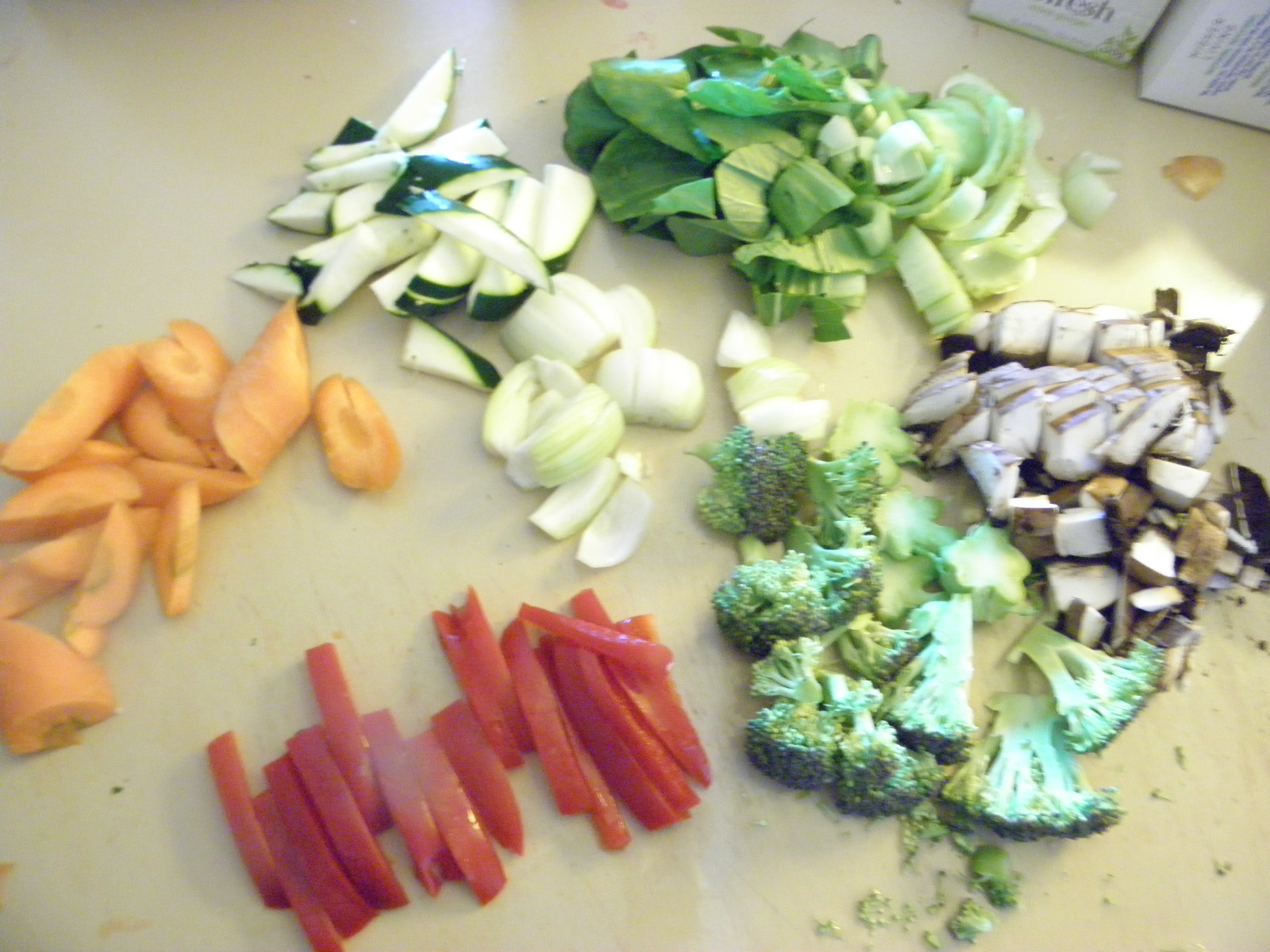 30 Oct

vegetable sensation – honey, lemon, tamari stir fry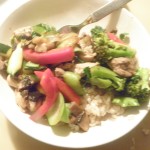 You asked for more recipes that would help you to get your required intake of vegetables. The first recipe that I thought of when you asked for more recipes devoted to getting vegetables into your diet, was this chicken stir fry.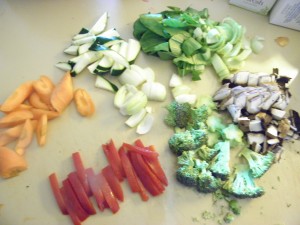 My approach to vegetables, is just overkill! Cut up everything that goes with a recipe, and you will find, as we have here, that you have five or more servings of veges in one meal!
I don't use a lot of each vegetable, but I have a tendency to use a lot of different varieties in each meal, which is great, because you get a variety of colours and nutrients which is very good for you.
So this is the first recipe, of many, for you 🙂

vegetable sensation - honey, lemon, coriander, tamari stir fry
Prep time:
Cook time:
Total time:
Ingredients
1 onion - diced
2 chicken thigh fillets - diced
1 medium carrot - sliced
½ cup of broccoli - sliced
½ medium zucchini
1 portobello mushroom or 1 cup button mushrooms, diced
½ red capscium sliced
1 floret of bok choy sliced
1 teasp. seasame oil or olive oil
1 tbsp - tamari or soy sauce
juice of 1 lemon
1 tbsp of honey
2 tbsp of coriander
1 cup of brown rice
Instructions
cut up all the vegetables
add 2 cups of water to 1 cup of brown rice in medium saucepan and bring to the boil, reduce to a simmer and cook for 15 minutes covered, or until the rice absorbs all the water.
cut up the chicken thigh fillets
in a large saucepan on medium / high heat, add sesame oil heat and add onions, cook for a couple of minutes until translucent. Add chicken and cook until browned all over.
Add carrot, broccoli and zucchini, cook for a few minutes until tender. Stirring frequently.
Add bok choy, capsicum and mushroom, cook until all the vegetables are al dente, stirring frequently.
When rice is cooked let stand for 5 - 10 minutes
Add lemon juice, coriander, tamari and honey to the stirfry and stir till combined.
Serve the chicken and vegetable stirfry over brown rice.
Enjoy!
Nutrition Information
Calories:
457
Fat:
13.8
Carbohydrates:
43.9
The honey is what makes this so tasty. If you don't really like vegetables all that much, it is good to put something nice with them, to make them more palatable. If you want something to make all these veges taste better, the sauce of honey, tamari and lemon with coriander, is a taste sensation.
I know this is very simple, but sometimes simple things are the best. I will post more vege recipes as we go along.