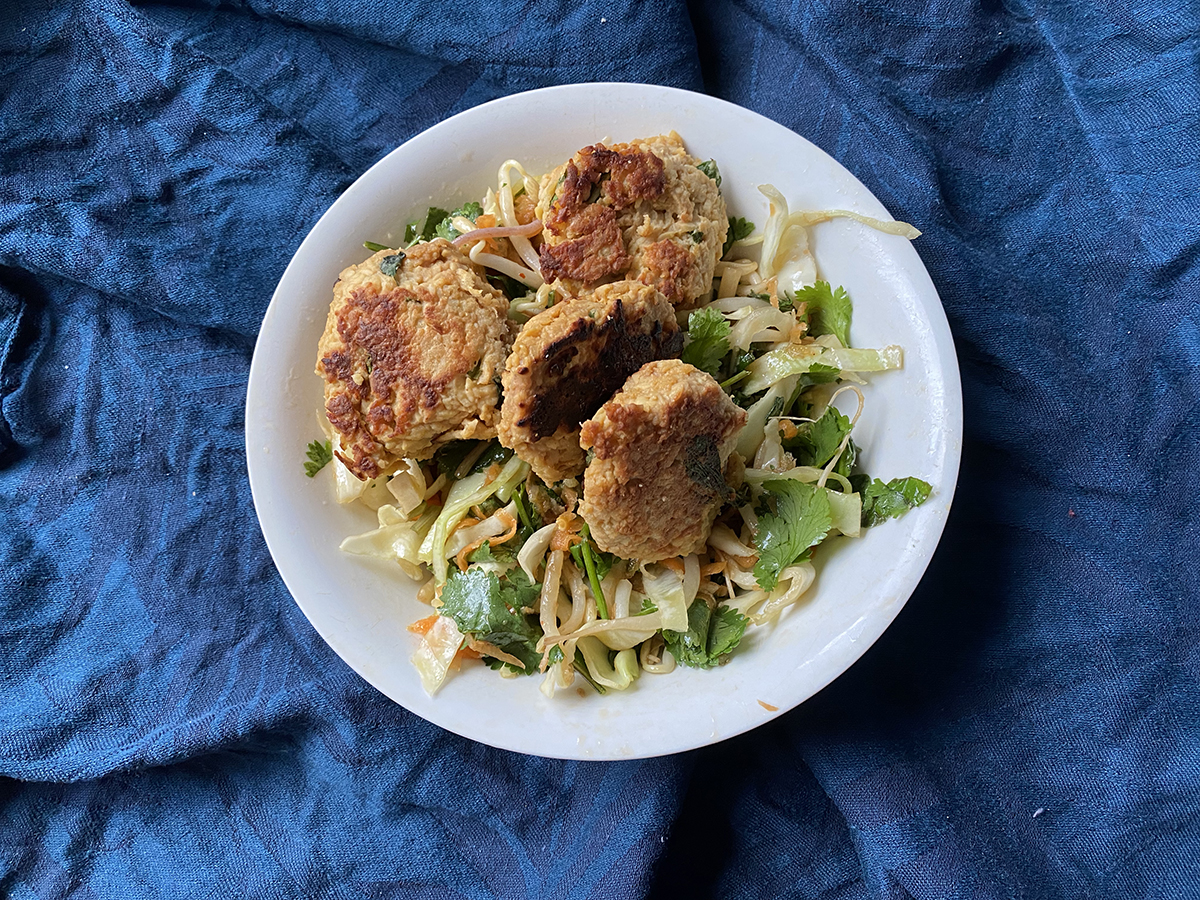 01 Nov

Vegan Vietnamese vermicelli noodle salad – bun chay

Craving a fresh, tasty Vietnamese style salad or bun chay? This vegan Vietnamese vermicelli noodle salad is a delightfully, summery and fresh take on the traditional bun cha.

I was craving the chicken cha patties that I had made in bun cha before becoming a flexitarian. And I was curious if I could create something similar with plant-based ingredients. The Vietnamese salad will take care of itself.

It took a bit of experimenting, but I think I have developed something that has the right texture and taste to eat with a vegan Vietnamese vermicelli noodle salad, and which is even tastier when refrigerated to snack on later.

It is all about the seasonings. I used some common Asian ingredients, to make the vegan patties really pop.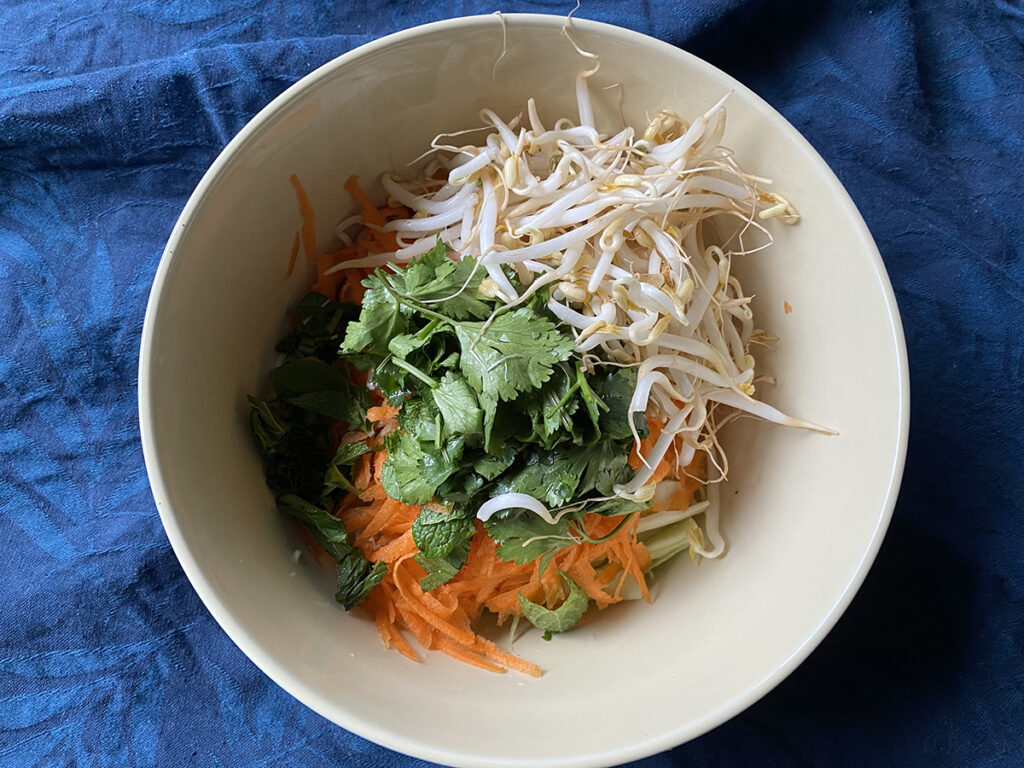 Ingredients
These were the ingredients for the cha patties
Tempeh – I found this in the refrigerated section of a wholefoods grocer
Vegan eggs – or flaxseed eggs
Panko breadcrumbs – helps to make the mixture 'sticky' could also use Chickpea flour – or oat flour or everyday flour if that is what you have available
Vegan fish sauce – if you are a devoted vegan, I hope you have found vegan fish sauce by now
Chopped mint – gives the patties a real zing
Sriracha or chilli flakes – I felt it needed a bit more of a kick
Garlic powder – adds a certain something to the flavours
Hoisin and/ or tamari sauce – adds to the Asian flavours of the patties
The work of a moment!
And wait! I know what you are thinking – what a hassle! I thought the same thing myself, but it comes together very quickly and what's more, it is an adventure, once you begin, it doesn't take too long to make the bun chay patties.
The Vietnamese vermicelli noodle salad is a few more ingredients, and the dressing too, but it does come together pretty quickly too.
Making the Vietnamese vermicelli noodle salad
The good thing about this recipe is that you can make a batch, and it can last for two meals. I love cooking this way because it means that the return on effort is greatly maximised.
It is important to cook the vermicelli noodles first so that they are ready when all the other parts of the salad are finished.
Grating the tempeh allows it to form wonderfully 'sticky' patties that closely resemble the cha in bun cha (also known in vegan circles as bun chay). Once the tempeh is grated, it doesn't take very long to add all the rest of the patty ingredients and stir to make a sticky 'mince' like mixture.
While the patties are cooking, you can cut up all the salad ingredients and make the dressing.
Then, all that needs to happen is to put it all together in a bowl and ENJOY!!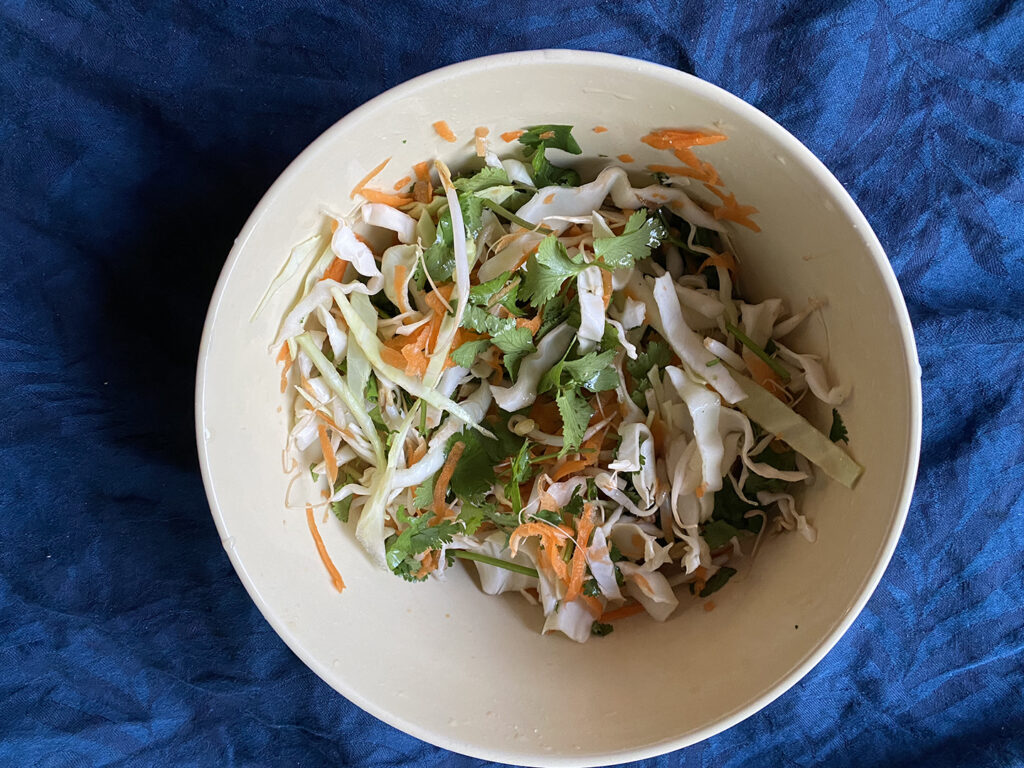 Vegan Vietnamese noodle salad - fresh, healthy flavours
Recipe type:
Dinner, salad
Prep time:
Cook time:
Total time:
Fresh flavours make this salad a refreshing dinner for the summer months. It is special enough to take to a bbq or picnic, and the leftovers taste great.
Ingredients
For the bun chay patties
1 packet of tempeh (225g)
2 vegan eggs, whisked
2 tbsp of vegan fish sauce
2 tbsp fresh mint, chopped
¼ cup of panko breadcrumbs (or chickpea flour)
1 tbsp tamari or hoisin sauce
1 tsp sriracha or chilli flakes
1 tbsp of olive oil
Vietnamese slaw
3 cups of shredded cabbage (both purple and green if you have them)
1 carrot, grated
1 cup mint, chopped
1 cup coriander, chopped
1 cup of bean sprouts or bean shoots
50 g of brown vermicelli noodles (or white vermicelli noodles if you prefer)
Chopped roasted peanuts (optional)
Salad dressing
1 clove of garlic, minced
1 tsp of fresh ginger, minced
1 tbsp tamari
1 tbsp vegan fish sauce
1 tbsp olive oil
Juice of half a lime (or lemon)
1 tsp chilli flakes (or more if you like a kick)
½ tsp of honey or brown sugar
Instructions
Bring a medium pot of water to the boil. Add the noodles while boiling and continue to cook for 5 minutes. Once al-dente, drain and cut into 2 inch lengths with a knife or scissors.
Grate the tempeh and add to a medium mixing bowl. Add the rest of the cha ingredients and mix to combine.
Heat a skillet on medium heat and add half the olive oil. Heat until shimmering and then scoop a tablespoon of mixture from the cha mixture and form into a nearly flat patty and add to the skillet. Do this with half the mixture, or all the mixture if there is room in your skillet. Cook the cha patties for 3- 4 minutes on each side, until lightly browned on each side and cooked through.
Remove from the heat and set aside.
For the salad, shred the cabbage and grate the carrot and add to a large mixing bowl. Add the chopped mint and coriander and beanshoots and toss to combine.
To make the dressing, put all the ingredients in a glass jar with a lid and shake until combined. Pour over the salad and toss to combine.
To put the salad together, take half the noodles and half the salad per bowl and toss to combine. Place four to six patties on top of the salad and serve with optional chopped peanuts.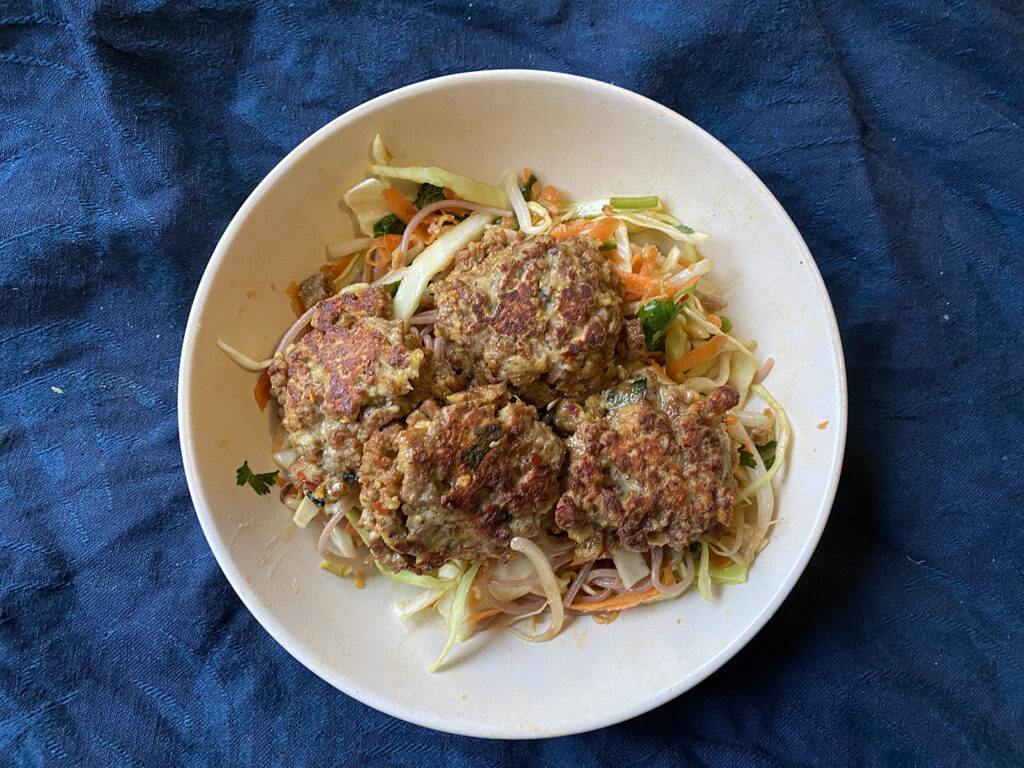 Leftovers – tasty vermicelli noodle salad for later!
The salad can be refrigerated after being made for up to three days. The bun chay patties can also be stored in the refrigerator (and make a great snack) for up to five days. To serve, simply serve the salad and put the patties on top and enjoy!
If you want to save the salad for longer than three days, I would recommend keeping the dressing in the jar and tossing it through the salad on serving.
Nutritional information
This recipe is a good source of protein and vitamin A. It is also a good source of iron and because it has a good dose of vitamin C, that non-haem iron will be more easily absorbed into your body to deliver oxygen to your muscles and vital organs.
It is a little higher in sodium than most of the recipes on this site. To reduce sodium, buy salt-reduced tamari instead of tomato sauce and also go for a low sodium vegan fish sauce.
Did you make this recipe? Leave a comment below and share a picture on Instagram with the hashtag #myhealthzest