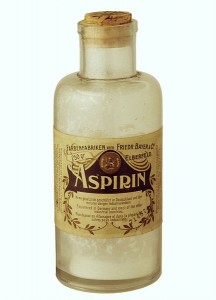 09 Apr

what is the story with aspirin?

Have you heard those stories about aspirin, being linked to preventing heart disease and cancer too? Is there anything in those rumours? I want to know!! Let's find out!

Okay, okay, so the research looks pretty good! A study done in the UK which was attempting to assess how taking daily aspirin could reduce heart attack and stroke, also looked at the effect of this over the counter medication invented in 1897 on cancer. Over seven studies including 23,000 people it was shown that daily aspirin use reduced cancer over all sites by 34 % and gastrointestinal cancer by 54 %. Benefits were also seen in lung, oesophageal, pancreatic and prostate cancers.

The subjects needed to take aspirin every day for five years to deliver these effects, however, it was also shown that taking aspirin daily can stop cancers that do develop from spreading, and that taking aspirin once cancer has taken hold can reduce death from cancer as well.
What are the proposed mechanisms?
Several mechanisms have been suggested to explain the anti-cancer effect of aspirin. Aspirin may:
inhibit cell proliferation
increase programmed cell death
inhibit the growth of new blood vessels that support cancer growth, or
enhance the immune system.
What are the risks?
Before you run out and buy some aspirin to protect yourself from cancer and indeed from heart disease, know this: aspirin can cause severe bleeding in the stomach and the brain, which can be fatal. This is why it is not recommended as an every day therapy without consulting your doctor.
For men between 45 and 79 and women between 55 and 79 it is more likely to be suggested to patients as a secondary protection to heart attack and stroke, because in this age group, the benefits out weigh the risks.
If you are in a high risk group for bowel cancer, perhaps you should talk to your doctor about whether you should take aspirin daily. Otherwise, the risk of bleeding means that you should save aspirin for things like temporary relief of pain.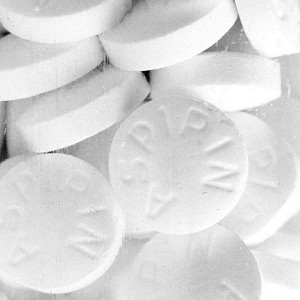 What are you doing about prevention?
The best prevention for cancer of course is to eat lots and lots of fruit and vegetables, to quit smoking (or don't start!), to protect yourself from the sun, to control your weight, to exercise and limit alcohol use.
References:
Cancer Council – Does an aspirin a day keep the cancer away?
WebMD – Daily aspirin might prevent and treat cancer
Bowel Cancer Australia – Aspirin gains credibility as anti cancer drug