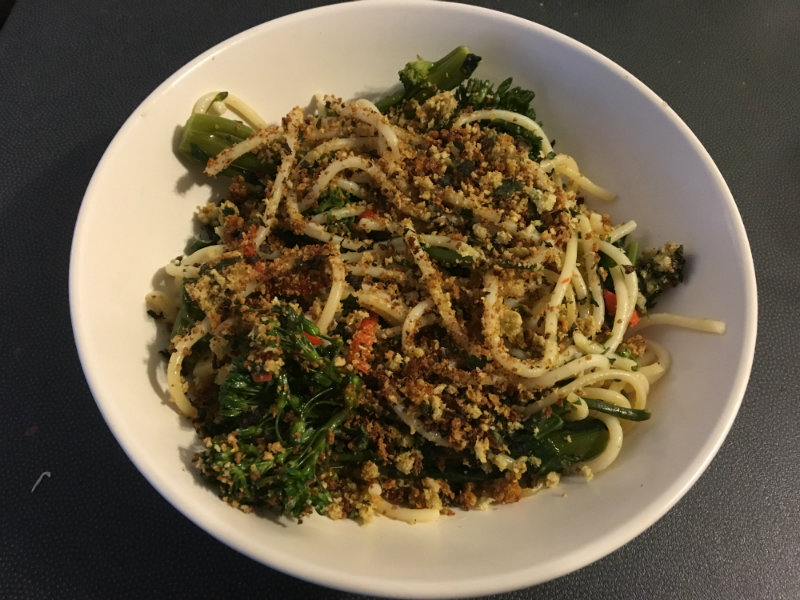 25 Nov

Remix recipe – Broccolini and chilli pasta with pangrattato

One of the things that really irks me, is the fact that restaurants and cafes serve such calorie laden food. I know that there are a lot of people who avoid them, because one meal can be 600 calories or more, and who needs it?!?

I think that there should be a section of the menu for meals that are 300 calories or less. More people would eat out, if this were the case. And more people would be able to have the delightful experience of eating out more often, without eating something questionable, that is so heavy on the calories.
Reimagining recipes to make them healthier
There are some great principles that can be used when cooking and preparing food that can cut huge amounts of calories off a meal. To give you an example, I am going to remix a Brocollini and chilli pasta dish tonight, to show you how it can be done.
This was the original recipe: https://www.taste.com.au/recipes/24820/broccolini+and+chilli+spaghetti+with+pangrattato?ref=collections,vegetarian-recipes
A single serving of this dish will set you back about 600 calories, which is too much! For anyone really. Unless it really is a once a week treat meal.
Here is my Broccolini and chilli pasta recipe, which will taste just as great and cut the calories in HALF:
 

Brocollini and chilli spaghetti with pangrattato
Prep time:
Cook time:
Total time:
Ingredients
1 slice of wholemeal bread
2 tsp olive oil
2 garlic cloves, finely chopped
½ cup of flat leaf parsley, finely chopped
100 g spaghetti
1 bunch of broccolini, trimmed, halved
grated zest of one lemon and wedges
½ red chilli - deseeded, finely chopped
40 g parmesan or hard cheese
Instructions
Preheat oven to 180 degrees C
Line baking tray with greaseproof paper, tear bread into small pieces and place on the tray. Drizzle with half the olive oil. Bake for 10 minutes or until golden and crisp. Remove from the oven and allow to cool completely. Process in a food processor with ¼ cup of parsley and ½ clove of garlic. Pulse to form coarse crumbs and then set pangrattato aside.
Meanwhile cook pasta in a large saucepan of boiling water, adding broccolini for the last two minutes of cooking time. Drain.
Heat remaining oil in large frypan over medium heat and cook zest, garlic and chilli, stirring for 30 seconds, or until fragrant. Add drained pasta and broccolini, toss to combine and then stir through remaining parsley and half the parmesan or hard cheese.
Divide pasta between two bowls and top with pangrattato and remaining cheese. Serve with lemon wedges.
Nutrition Information
Calories:
262
Fat:
11g
Carbohydrates:
26g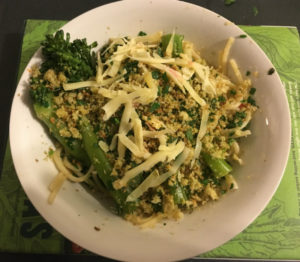 It is quite a nice meal. Don't forget to squeeze the lemon. It makes this dish more delicious.
It can be hard to toss the chilli, lemon and garlic mixture through the pasta, but that will make the leftovers even more delicious.
One slice of bread makes plenty of breadcrumb mixture. I can't imagine a whole slice of bread per serve.
There was plenty of pasta and it is a nice vegetarian dinner.
I want cafes to do this with their dishes. It just takes a few small changes!