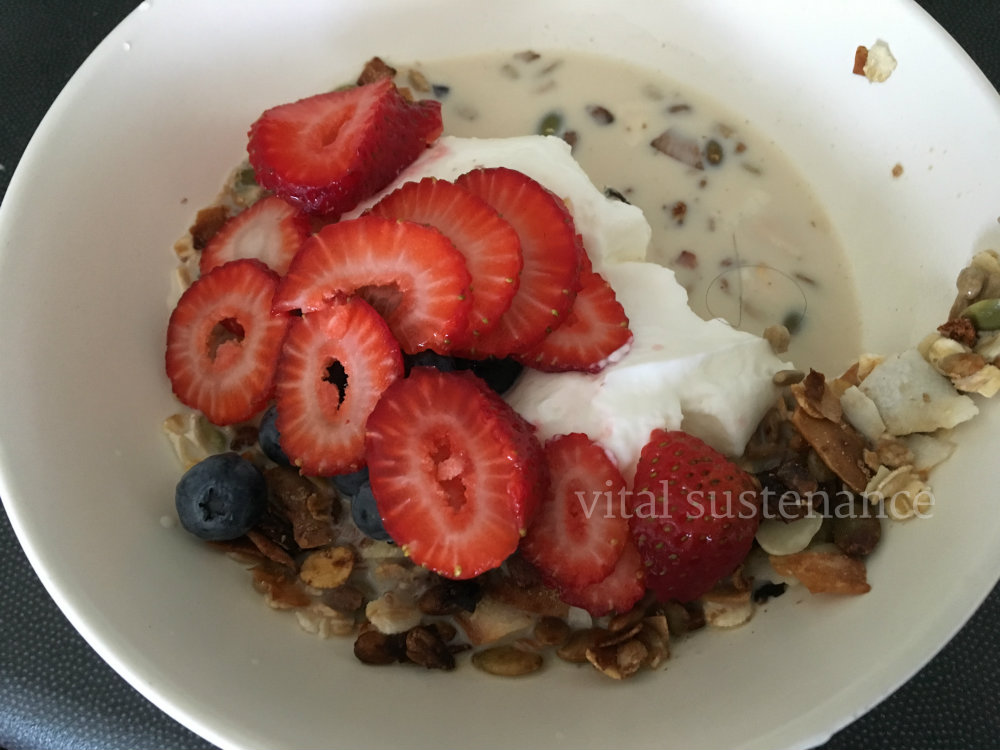 25 Nov

High protein breakfast cereal recipe

What is your favourite breakfast cereal lately? I have devised a high protein breakfast cereal with moderate carbohydrates, and I have never been so excited about breakfast. Not for a long time. I serve 1/2 cup of toasted granola (recipe below) with high protein Greek yoghurt, high protein soy milk, half a handful or so of blueberries and 1 – 2 medium strawberries (sliced). It is a taste sensation. The perfect spring / summer breakfast!
Ingredients
1 cup sliced almonds
1/2 cup pistachios
1 1/2 cups of rolled oats
1 cup flaked coconut
1 cup of sunflower seeds
3/4 cup pepitas
3/4 cup walnuts
2 tbsp hemp seeds
2 tbsp coconut nectar
2 tsp vanilla essence

Directions
Preheat the oven to 180 degrees Celcius.
Mix all the ingredients except for the coconut nectar and vanilla essence in a large bowl.
Add the coconut nectar and vanilla essence and mix through.
Spread the mixture over two baking sheets covered with recycled aluminium foil and bake in the oven for 15 minutes.
Watch it quite carefully, as the top sheet will cook much more quickly.
Leave to cool for 20 – 30 minutes and then break up into clumps and store in an air tight container.
When serving, measure out 1/2 cup into a measuring jug and then add the accompaniment ingredients.

Macros
Total yield: 6.5 cups -> 0.5 cup per serve = 13 serves
Total calories: 3704 -> 284 calories per serve
Total protein: 118.3 g -> 9.1 g per serve
Total carbohydrate: 230 g -> 17.75 g per serve
Cost
In terms of price, I think it is a little more expensive than buying cereal at the supermarket. The total cost of the 13 serves is $19.73 – which works out at $1.52 per serve. Given that cereal at the supermarket is about $6 – $7 and lasts about a week (sometimes less), then it does work out a little bit more expensive. To my mind it is worth it to have that extra protein punch. I struggle at the supermarket to find cereal which has even over 3 g of protein per serve. The ones who promote themselves as being 'protein plus' or high protein breakfast cereal have maybe 5 g of protein per serve, but nothing like this mix, clocking in at 9.1 g of protein per serve.
Grand total macros
The whole breakfast comes together with some Protein Plus soy milk (54 calories, 4.2 g protein, 2.2 g carbohydrate), 3 heaped tbsp (1/2 cup) of high protein yoghurt (57 calories, 9.7 g protein, 4.2 g carbohydrate), 1 tbsp of LSA (163 calories, 6.8 g protein, 2.5 g carbohydrate) and a handful of cut or whole berries (usually blueberries (9.5 calories, 0.1 g protein, 2.3 g carbohydrate) and a couple of strawberries(7.6 calories, 0.2 g protein, 1.8 g carbohydrate) .
Grand total calories per serve: 521 calories
Grand total protein per serve: 30 g protein
Grand total carbohydrate per serve: 30 g carbohydrate
High protein breakfast cereal for sure, but the calories! And the carbohydrates!

Discussion
It is such a great exercise to formally write this all out, because now I can see what I am really eating. I am not so sure that 520 or calories for breakfast is really the bees knees. Even if it is a high protein breakfast cereal. If I cut out the LSA, that would cut a whopping 163 calories, and would only reduce the protein by 6.8 g.
Given that the CSIRO recommend 25 g of protein for breakfast, this is still doable. Without the LSA, the protein content would be 23.2 g of protein. I could maybe make up the extra 2 g with some more yoghurt.
This exercise also makes me realise that strawberries and blueberries are excellent fruits to add to breakfast. They may not have a lot of protein, but they certainly don't have a lot of calories or carbohydrates, and all those vitamins! Also, they are so tasty. 🙂

Proposed amendments to my high protein breakfast cereal
In terms of cutting back on the carbohydrates, because that does seem like too much. I am wondering if I could include 1/2 – 1 cup of oats instead of 1 1/2 cups – which is the highest contributor of carbohydrates. I am loathe to remove oats all together because they are so incredibly good for us! Also, they make the granola very crumbly and delicious after it has been baked in the oven. If I reduced the oats to 1/2 cup (and removed the LSA) the total carbohydrates would be 23 g, which is starting to sound more reasonable.
The CSIRO recommend keeping carbohydrates under 50 g a day, which would be doable with this amount for breakfast, but I have had more success reducing carbs to less than 25 g per day. I actually don't think that I can get this down any further though, without reducing the protein. Although the CSIRO support a protein balance diet, with higher levels of protein they also suggest low carb.
Sooooo tasty!! Enjoy 🙂