Ingredients:
2 handfuls of rocket, or mixed lettuce leaves
2 handfuls of chopped kale or baby spinach leaves
2 glasses of cold filtered water
2 – 3 sticks of celery chopped
1 orange peeled and chopped
1 kiwi fruit – flesh scooped out
1 banana
juice of 1/2 squeezed lemon
2 tbsp fresh coriander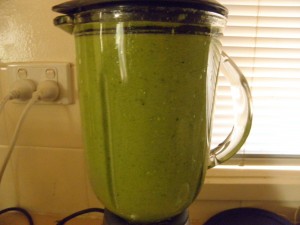 Directions:
Fill the blender with the two types of different greens and add two glasses of cold water. Blend on low until a smooth liquid forms. Add the celery, orange and kiwi fruit. Blend on high until well combined. Add the banana, lemon juice and coriander, blend one more time, until smooth and creamy.
Drink 1 – 3 glasses of smoothie and save the rest for an afternoon snack. It will keep in the fridge for 2 1/2 days.