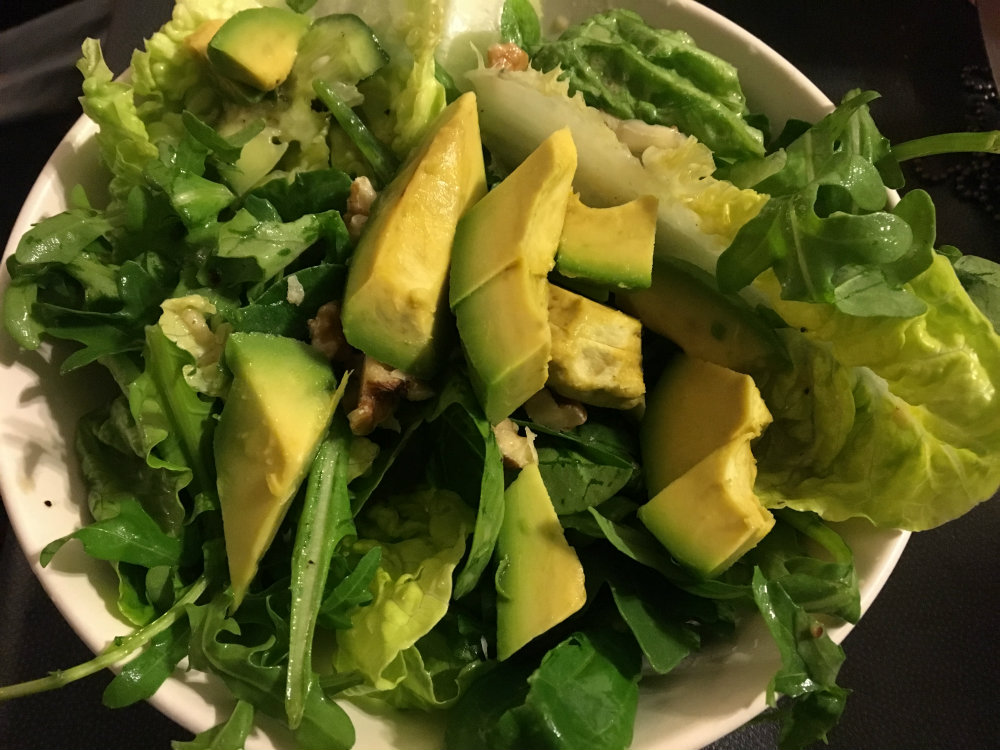 12 Apr

Chargrilled Cajun chicken with broccolini and salad

I am excited about my first CSIRO approved dinner 🙂 There were lots of nice surprises. Like the crunch of walnuts in a mouthful of leaves and avocado. And the amazing vinaigrette dressing. It is all about the dressing.

I was simply stunned by the volume of green leaves that were part of this dinner, and I think I under measured to some extent! The recipe called for a huge bowl of rocket, cos, spinach and loose leaves, as well as cucumber.

There is obviously going to be a whole heap more vegetable eating going on, but I must say – I don't mind. I love veggies. More of it!

Here is the recipe:
Chargrilled Cajun chicken with broccolini and salad
Author:
Prep time:
Cook time:
Total time:
Fresh leaves, dressed in a tasty vinaigrette, with spicy Cajun chicken – very satisfying.
Ingredients
1 tablespoon sweet paprika
2 teaspoons garlic powder
1 teaspoon onion powder
1 teaspoon dried oregano
1/2 teaspoon dried thyme
1/4 teaspoon cayenne pepper
300 g chicken tenderloins (or breast, cut into tenderloins)
olive oil for spraying
bunch of broccolini
Mixed leaf and avocado salad
1 baby cos head of lettuce
1 cup of rocket leaves
1 cup of spinach leaves
1 Lebanese cucumber, cut lengthwise and then sliced on the diagonal
1 clove of garlic, crushed
2 teaspoons of Dijon mustard
4 teaspoons of white wine vinegar
2 teaspoons olive oil
ground black pepper
half an avocado (80 g) diced
20 g walnuts or pecans roughly chopped
Instructions
Soak 6 bamboo skewers for 30 minutes in cold water.
Add the lettuce, rocket, spinach and cucumber to a large bowl and toss gently.
Place the garlic and mustard in a small bowl or jar and mix until combined, seasoning with ground black pepper. Stir to mix.
Add the white wine vinegar and stir, followed by the olive oil and stir until emulsified.
Add the dressing to the salad just before serving and gently toss to coat, then add the avocado and chopped nuts.
Place paprika, garlic and onion powder, and other herbs and spices in a flat large dish that will fit the chicken skewers. Season with pepper and stir to mix well.
Skewer each chicken tenderloin lengthways and then place in the spice mix, turning to coat evenly.
Spray a chargrill pan and heat over medium heat. Spray chicken tenderloins with oil and then add to the pan, cooking for 4 – 5 minutes each side or until cooked through. Transfer to a plate, cover with foil and keep warm.
Spray the broccolini with oil and add to the chargrill pan, for three minutes on each side or until just tender and slightly charred.
Pile the salad, broccolini and chicken on a large plate and serve.